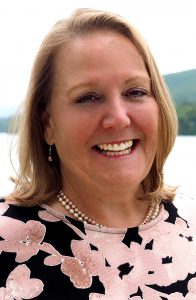 By Gina Mintzer, CMP, MHA
The Lake George Regional Chamber of Commerce & Convention and Visitors Bureau, is continuing the focus on three main areas that collectively boost the economic vitality and sustainability of the region that began throughout 2018
Those areas are: enhancing member and partner participation and engagement;  increasing Lake George area year-round visitation, and expanding the CVB.
Throughout 2018 we were focused on these areas and accomplished quite a bit toward our goals.  To name a few, the Chamber took on the Adirondack Craft Beverage Trail and has re-energized the initiative that began several years ago with the Adirondack Regional Chamber of Commerce.  This program now has 25 producers on the trail and a robust marketing campaign in and out of the market to drive visitors and overnight guests.
  We are grateful to serve all involved for this year-round effort that is not "lake centric" and is a truly regional program, that involves producers from northern Saratoga to Lake Placid.
Many have visited the new Adirondacks Welcome Center that opened September 20, but not many know the Chamber operates the Taste NY Market which is a state Agriculture & Markets vending program focused on hyper-local products with the intention of growing small businesses.  A range of products from Brooklyn to the northern Adirondacks and west to Ithaca feature local, New York-made products that one can buy in the vending machines
Gift items are also available in the vending machines from "Love is on Lake George" key chains and Lavenlair Farm Tea to Goats Galore soaps. It's been a real honor and privilege to work with local entrepreneurs and farmers to help grow their business in this new model. 
The Chamber also operates the Lake George Village Information Center seasonally, as well as the Chamber office year-round with visitor information. Throughout 2018, the Chamber team personally connected with more than 65,700 visitors at all three centers. We believe 2019 will be another strong year to connect with visitors and tell of the experience guests will enjoy in and around the region.
A new initiative of the CVB was the inaugural Adirondack Christkindlmarkt event held Dec. 7-9 at the Festival Commons in Charles R. Wood Park. It realized close to 5,000 people over three days and has great potential to grow during a need time of year for the area.
The County has reaffirmed their commitment to the CVB with additional monies to grow the sales team with the focus to zero in on sports events, religious and other fraternal conferences along with state association and corporate meetings. Current bookings range as far out as 2023.
The wedding industry is another growth opportunity for the entire county. In 2017, 775 weddings were held throughout Warren County, with 2018 another strong year as reported by those catering to that business sector that includes everything from venues to furniture rental to hair and make-up stylists to entertainment and photography.  This aspect of group business will be an additional focus for the CVB in collaboration, with all businesses involved from a marketing and promotion standpoint.    
As we get underway for 2019 snow and ice (or the lack thereof) is on everyone's minds as we think about this same time last year.  We need some inclement weather to realize the same visitation for snowmobilers, ice fishermen, ice bar weekends and Winter Carnival weekends coming up in February that we realized in 2018. 
Our goal continues to encourage overnight stays and not just "visits" for all events while striving to attract new and more guests this year. As noted, the CVB focus on booking new "weather proof" events like sports, religious and business meetings and weddings helps the year-round economy. 
Weather and annual events play a key role in our ability to serve guests and keep visitation high, yet we must stay vigilant in keeping the Lake George region top of mind to potential visitors, as the competition for travel is fierce.
Tourism is a year-round business that takes oversight and management to foresee trends that include improving and refining metrics to evaluate success. To achieve our goals and our mission as the driver of tourism, we continue to maximize our marketing efforts using and understanding a consistent set of industry metrics that allows us to connect and react to changing market conditions.
We continue collaborating with Warren County Tourism, Warren County Council of Chambers, specific municipalities throughout the county and other stakeholders to ensure that we leverage our collective marketing and promotional efforts while expanding our reach through all activities. 
From an outlook perspective we continue to focus on marketing to grow demand for the new additional overnight accommodations now open in the region. We have seen substantial growth in the room inventory over the last 24 months and the only way to grow the region is to grow the number of visitors.
And, there's more to come with the construction of the new Fairfield Inn in Queensbury. Re-investment in properties throughout the region continues with The Queensbury Hotel, Scotty's, The Juliana, and Warrensburg Inn & Suites among others.
Monthly Convention & Visitors Bureau (CVB) meetings hosted around the region foster networking among those directly impacted by the meetings, convention, sports and other group business. These meetings continue to help all involved understand how our tourism economy grows when synergy and collaboration is at the root of our efforts. 
New business is being booked in the Lake George area because of our community partners willing to work together. This spirit of collaboration has helped to book a new event coming this year, the Great Nor'easter Volleyball Tournament, being held March 9-10, 16-17, and 23-24.  This tournament is booking courts in Glens Falls, Queensbury, South Glens Falls, Lake George and Warrensburg and participants will stay in and around the area for these weekends. 
In June of 2019, the Adventure Travel Trade Association will host the 2019 ELEVATE Conference at the Fort William Henry, which involves 350 tour operators, media and suppliers focused on adventure travel and tourism.  This conference will provide a strong platform for adventure travel industry experts and prospective businesses to collaborate to bring new adventure-based businesses to the area.
There are many opportunities for local involvement in this conference.
Face-to-face meetings and events is vital to our sustainability and the LGRCC-CVB team will continue active involved in a variety of local, regional, state and national organizations that help further the visibility of the region as well as the vitality of our economy.
All of the efforts of the Lake George Regional Chamber of Commerce & CVB align to connect chamber and CVB resources with our local businesses and our local village, town and county government to better position the Lake George Region to contribute to consistent tourism growth.