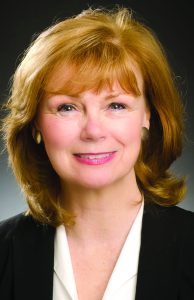 Elizabeth Miller, president of Miller Mechanical Services Inc. and Doty Machine Works is the winner of the 30th annual J. Walter Juckett Community Service Award.
The Adirondack Regional Chambers of Commerce (ARCC) will present the award at the event cheduled for 6-11 p.m. Saturday, March 9, at the Sagamore Resort, 110 Sagamore Road, Bolton Landing.
A cocktail hour runs 6-7 p.m., followed by dinner and a program 7-11 p.m.
A former school teacher, Miller took on the role of CEO at Miller Mechanical in 2007 after the passing of her husband, Myles Miller. She purchased Doty Machine Works in 2014 as an investment in business.
In 2014, Miller purchased the Park Theater building on Park Street in Glens Falls. Her motivation behind renovating the building was not based on her return on investment but on what the investment could do for downtown Glens Falls, Chamber officials said.
Miller is a member of the Adirondack Civic Center Coalition and its secretary. She was integral in bringing key members of the business community together in forming the group to keep the now Cool Insuring Arena and the Adirondack Thunder in local ownership.
She serves on the boards of Glens Falls National Bank, Arrow Financial Corp., and SUNY Adirondack Foundation, St. Mary's–St. Alphonsus Regional Catholic School.
For more information on the event, visit www.adkchamber.org.
The ARCC noted that J. Walter Juckett had a remarkable business career and was recognized as a major community leader in his adopted home, the village of Hudson Falls, and the entire region. His leadership and commitment transgressed a wide range of civic, charitable, religious, political, business and educational activities.
He was recognized with honors for his work and contributions to the Boy Scouts of America, New York Business Development Corp., Salvation Army, Norwich University, Presbyterian Church, Hudson Falls Central School and many other organizations. He served as a director of the Lake George Opera, and a major force in The Hyde Collection Capital Campaign.
Founded in 1914, the Adirondack Regional Chambers of Commerce is a membership organization representing in excess of 23,000 people predominantly in Washington, Warren and Northern Saratoga Counties.