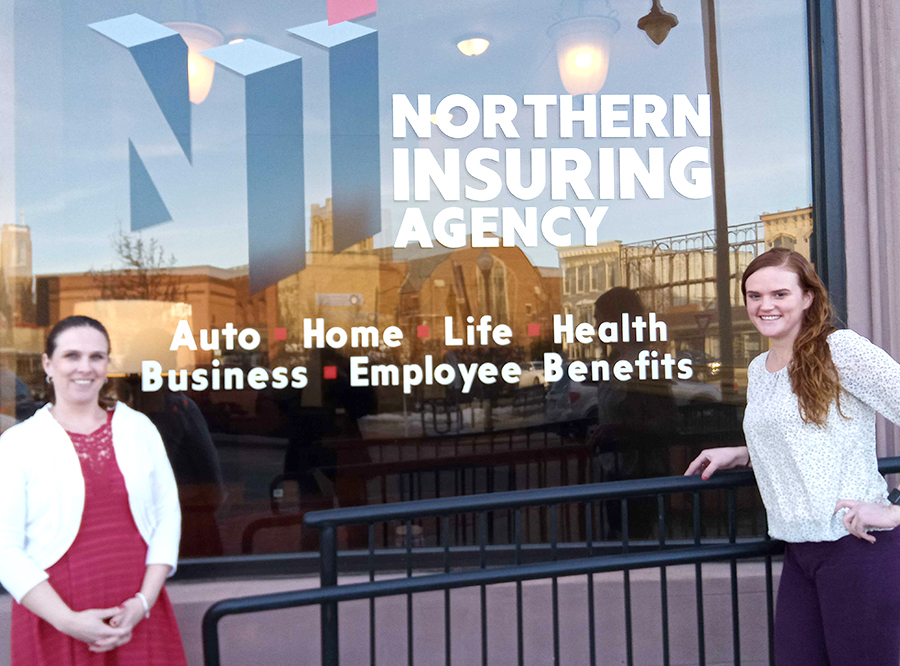 By Christine Graf
Northern Insuring Agency Inc. recently relocated their Whitehall office to Glens Falls. The 720-square-foot office is located at 136 Glen St. and was previously occupied by U.S. Rep. Elise Stefanik.
Stefanik relocated her Glens Falls office to 5 Warren St. in January.
Founded in 1933 in Au Sable Forks, Northern Insuring Agency is a local, family-owned, independent insurance agency. They offer business, personal, and employee benefit insurance.
"We call it a three-legged stool. We are best known for business insurance, but it is very important to have three divisions so that people can do their one-stop shopping, as we say," said company president and CEO, Deena Giltz McCullough.
According to McCullough, the decision to move came not long after the successful relocation of their Massena office. That move took place in early 2018.
"We successfully moved from Massena, which is a smaller community, to Potsdam which has a lot more activity," she said. "That was a springboard for moving our office from Whitehall to Glens Falls. We realized that in the Warren and Washington county area, a lot of people travel to Glens Falls for shopping, doctor visits, those kinds of things. It is a pretty active place."
For most of the company's history, its offices were located in small towns. In recent years, they consolidated operations into three locations. In addition to having branch offices in Glens Falls and Potsdam, the company has its headquarters in Plattsburgh. They employ a total of 36 people. Four of these employees are in Glens Falls.
"We were once in every small community," said McCullough. "But what happened over time was that technology changed and what we wanted to do was locate more in active hubs."
Much of the company's growth took place under the leadership of McCullough's father and grandfather, both former presidents. Her father, Roderic Glitz, asked her to join the family business after the death of her grandfather.
"I had just gotten married and had a husband in the Air Force," she said. "My father said, 'I need someone I can trust. Would you be interested in coming back?' So my husband gave up his career in the military so that I could have this career in the family business. So I joined late 1985 and became president in 2008. I'm third generation and first female president and CEO. I'm certainly the newer generation which is very HR focused, with a lot of strategic planning and accountability. I focus on vision and how to position the business for the future."
McCullough's brother, Randy Glitz, serves as senior vice president and chief marketing officer. Her 28-year-old son, Collin, is a marketing associate.
"It's very rare for a business to get to the third generation," she said. "We now have a fourth generation."
Her father spends six months of the year in Florida but remains active in the business and serves as chairman. McCullough also credits Peter Hoffman of Glen Street Associates for helping them to find a property that met their needs.
"It's a great location for where we want to be. It's not a huge space, but it's well laid out," she said. "We don't need a huge amount of space. People are out of the office a lot meeting with clients."
According to McCullough, Northern Insuring Agency is also committed to supporting local charities.
"We are very philanthropic as a family," she said. "We believe in getting authentically involved in the communities we serve. It comes from a good place in our hearts."
For more information, visit www.northerninsuring.com. The Glens Falls office can be reached at 518-499-0444.