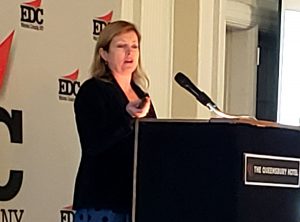 By R.J. DeLuke
The president and CEO of the Business Council of New York gave cautious views of the state and national economy moving into 2019 at the annual economic outlook breakfast held by EDC Warren County on Jan. 31 at the Queensbury Hotel in Glens Falls.
"We're headed into some very difficult times," said Heather Briccetti, president and CEO of the Business Council, citing policies enacted by the state Legislature.
She noted that the pace of change in the technological world has accelerated dramatically, and the disruption of economic and social standards "is so much faster now."
Briccetti said there has been high-end wage growth in the state, but there is a large gap between that top and the low-end wage earners that will continue to be a problem.
There is also a bigger gap between political idealogies and that polarization has made people lose faith in politics and other basic institutions.
In New York, she said population is being lost because of an unfriendly business climate. That will result in less representation, "and less pull," in Washington D.C. And in New York, "people who are running government (liberal Democrats) don''t necessarily represent a lot of us," whom she called "moderates."
Briccetti said she is particularly concerned with what she perceives as an embrace of socialism by young voters and the "popular control of resources and production" which is "dangerous."
In Scandinavia, often used as an example in the U.S., they do not espouse socialism, but employ "capitalism, with good social progress."
She also bemoaned "a cultural rejection of the trades," in that young people set sites on high-tech jobs, encouraged by schools and parents. They forget about good-paying, strong careers in building trades. Those fields are having a hard time filling jobs, creating opportunity. They also have training programs that can expedite the process for those who are interested.
Another concern Briccetti had was single-payer health insurance in the state. She did not think it would happen this year, but there would be pressure to put a single-payer system in place in the coming years.
Kenneth Entenmann, senior vice president and chief investment officer for NBT's wealth management division, spoke about the national economy and economic indicators that are available thus far.
While there is talk of an impending recession, Entenmann said he does not feel it is imminent in the short term
He said about 318,000 jobs were created in December and wages are starting to grow, which will boost the economy; an economy that is made up 70 percent y consumer spending.
"Our economy is going to be OK fore the time being," he said. Stock markets are stabilizing and he market is correcting itself over time.
Trade issues involving China, including the tariff wars, are problematic, but Entenmann was optimistic an agreement could be ironed out. Even if the U.S. imposed all of the proposed tariffs, it would represent an impact of $130 billion in a $100 trillion worldwide economy, he claimed.
"Is there going to be a recession ? I would say no, but my guess is as good as yours," he said.