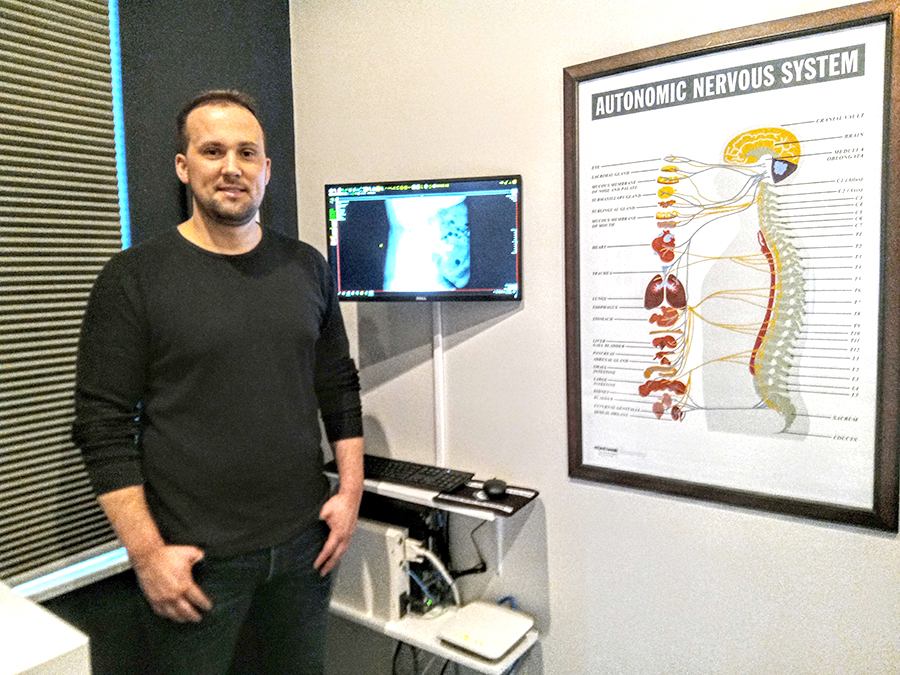 By Jennifer Farnsworth
Lifelong Queensbury resident Dr. Jeff Sawyer is passionate about being a chiropractor. Now with his own practice, Sawyer Family Chiropractic, Sawyer said he is excited to share that passion with the community.
The 123 Quaker Road office opened in January. Sawyer designed it to be a state-of-the-art facility with treatment rooms that allow for the natural treatment for discomforts and symptoms, including neck pain, pregnancy pain, central nervous system diseases such as Multiple Sclerosis, auto-accident pain and general wellness regardless of age, said Sawyer.
"The practice strives to promote a family atmosphere that focuses on optimizing health for each and every patient. As a chiropractor, my primary goal is to help patients avoid more costly interventions, such as prescription medications and unnecessary surgeries," said Sawyer.
Sawyer is a graduate of New York Chiropractic College. He serves as the team chiropractor for the local Adirondack Thunder ECHL hockey team. He regularly attends seminars and training to keep up-to-date with new techniques of care.
"I am excited to host regular seminars that will be free of charge to the public to address various topics such as the importance of nutrition and general wellness. I plan to hold these seminars monthly and will announce them via the Sawyer Family Chiropractic Facebook page and on Instagram @drjeffsawyer," said Sawyer.
He said one goal of his practice is to serve all ages who are experiencing any sort of chiropractic issues
"Performing adjustments that help my patients regain and maintain their independence, while enhancing their quality of life, is the most rewarding aspect of my profession," said Sawyer.
Sawyer attended New York Chiropractic College in Seneca Falls. His focus was working with athletes.
"In an already intense course load, I made it a priority to go above and beyond for which I was able to receive an advanced certificate in sports science and human performance. Upon graduating, I joined a family chiropractic practice. My early focus on athletes has given me a unique breadth of knowledge and skills that is directly relevant to family chiropractic. I provide my patients, young and old, a personalized approach," said Sawyer.
Sawyer said his life changed in 2017 when he was able to extend his expertise to his newborn daughter, Kennedy.
"Kennedy was born four weeks early and developed colic after birth. Kennedy has been under my chiropractic care since birth. Her colic subsided after two months of chiropractic adjustments. She is a thriving happy baby, that sleeps through the night, thanks to chiropractic."
For more information or to make an appointment, call 518-223-0118, visit sawyerfamilychiro.com or email drjeff@sawyerfamilychiro.com.