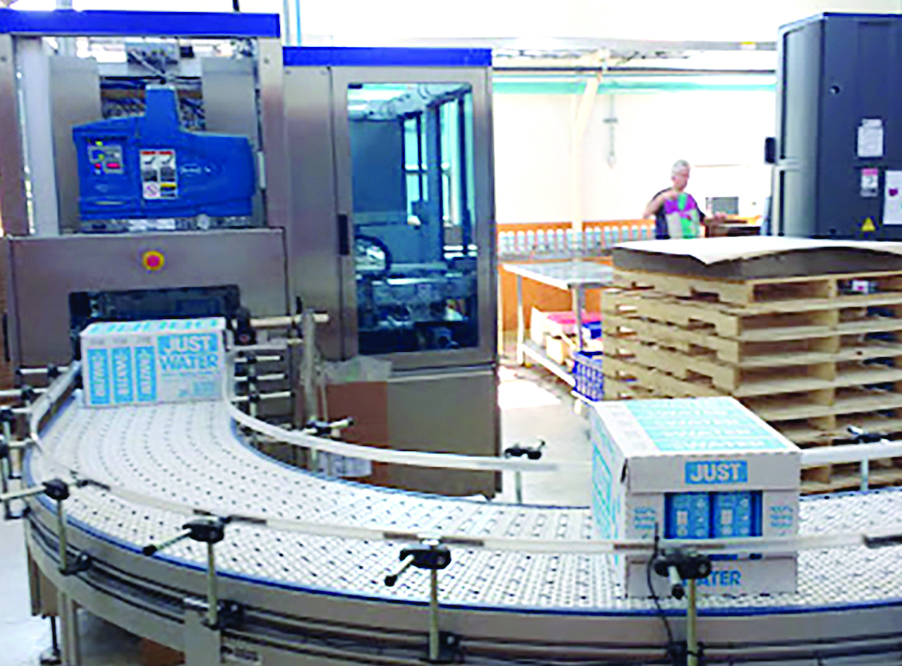 by Susan E. Campbell
JUST Goods Inc. is proceeding with plans to lease additional production and warehouse space to keep up with demand for its original product, JUST Water, packaged and bottled in downtown Glens Falls since the brand's inception in 2012.
According to corporate spokesperson Kara Rubin, vice president of brand and product strategy, "We need to be able to accommodate a growth trajectory based on current experience and the present facility doesn't allow that flexibility."
JUST Water is on the shelves of approximately one-third of all U.S. grocery stores across 50 states, plus other retailers, according to the company.
The 31 Broad St. facility is the only location domestically where JUST Water is packaged and is the only packaged water product using a particular brick-shaped carton made of 100 percent recyclable materials, the company said.
"These cartons are not biodegradable, but our story is not about the end of life of the packaging," said Rubin. "Our story is about what goes into the packaging."
"Eighty-two percent of the materials start as trees," she said. "We also make the cap and the shoulders of the carton from sustainable sugarcane."
The process translates into a far lower carbon footprint than plastic bottles. Moreover, empty cartons are recyclable, refillable or otherwise reusable, Rubin said. JUST Goods has no trademark on the package or packaging system. That belongs to Tetra Pak, a global packaging company with whom the company partners.
JUST Water also has packaging plants in Northern Ireland and outside of Auburn, Australia. Rubin said those facilities exist "for environmental reasons," serving overseas markets.As the company expands locally, it will explore commercial space near the Glens Falls watershed from which JUST Water is sourced.
"The Glens Falls area is at the heart of the brand," Rubin said. "We are valuing a commodity fairly as no one else does by contributing to the community in a way that is important and impactful."
JUST Goods has had its eye on 276 Dix Ave. in Queensbury, a building of more than 50,000 square feet that could potentially double or even triple capacity. The new location would accommodate another Tetra Pak packaging machine that will also allow the company to expand its offerings with a larger sized one-liter bottle.
Rubin said JUST brand naturally flavored water had been introduced recently in lemon, tangerine and apple cinnamon flavors. In June, three more flavors will be rolled out: mint, cherry and blackberry.
Longer term, the JUST brand's vision is a whole family of food and beverage products, according to Rubin. All will have the distinctive and environmentally friendly packaging.