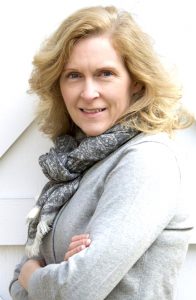 By Jill Nagy
Photographer Holly LeBihan realized a long time dream when she opened Images by Holly Ann, her new photography studio at 206 Glen St. in Glens Falls, in mid-May.
After raising her three children, LeBihan returned to school in 2010, earning an associate degree from SUNY Adirondack and a bachelor's degree at Fitchburg State University in Massachusetts. After that, she spent two years building her portfolio, moving around as the demands of her husband's job required, and taking photographs on location, whether at schools, in clients' homes, or out of doors.
Now, she has a studio on the fourth floor of the Covin Building.
"It's nice to have consistent lighting," she said. She looks forward to getting established.
Her work is primarily portrait photography, particularly of children and family pets.
"I love children," she said, "My heart is drawn to kids."
She has also been photographing graduating high school seniors, a large part of her work this time of year. She said that she does not do weddings (although she has broken that rule).
Since summer is a popular time for outdoor photos, LeBihan does get out of the studio for some assignments. High school seniors "love to be outside" and babies are often best photographed at home, she noted.
Before her children were born, LeBihan worked as a bookkeeper but that was the only business experience she has.
She urges people to "take lots of photos and make a lot of memories," and has a particular message for mothers: "Mom, get in the photos." She has noticed that very few family pictures include the mother. "Mom is always behind the camera."
She recommends getting the pictures printed on paper. Digital media corrupts and becomes obsolete, she said. She lost a large collection when both her computer files and their back-up were accidentally wiped out.
"I strongly believe in the printed product," she said.
Although she learned her craft using film cameras and working in a darkroom, she now uses a digital camera and has her work printed by a professional photo lab.
She said her current life is "exciting" and "different, "I get a thrill from taking the pictures."
LeBihan's website is www.imagesbyhollyann.com. She can also be reached by telephone, at 518-480-4001.