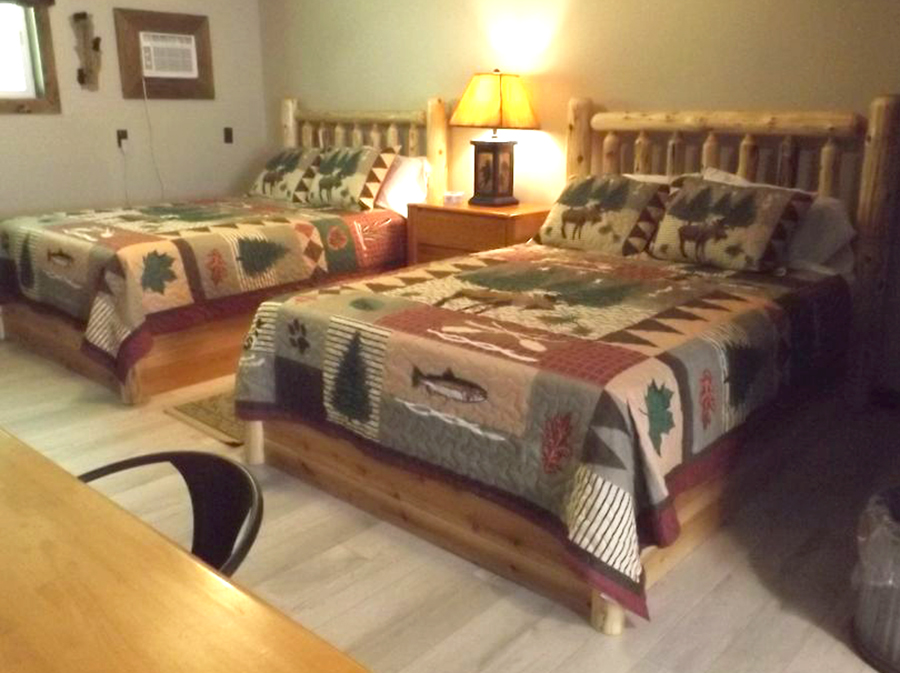 By Jill Nagy
After a year of work, Steven Madden has transformed a rundown motel on Main Street into the Warrensburg Inn and Suites, 12 units on five acres at the base of Hackensack Mountain.
The decor is rustic—cedar logs and patchwork quilts, but the usual amenities are included, including WiFi.
The indoor renovation work is just about completed, according to Madden. He is getting ready to do the exterior painting and landscaping. He plans a sandpit and playground for children and a horseshoe pitch area for the grownups. He said that he will do a grand opening when that work is done.
A three-year plan for the site includes adding A-frame cottages and yurts—round tents where guests can stay—back in the woods.
Madden's home is also on the site.
Madden said that he drove into town in January of 2018, wanting to return to New York state and looking for something to do in his retirement after a career in construction management.
"I didn't want to sell coffee or print tee shirts," he said, "and the motel just happened to pop up."
He was pleasantly surprised to get "quite a bit" of business over the winter, including skiers from nearby Gore Mountain. He expects winter guests to account for 30-40 percent of his business.
A website, warrensburginnandsuites.com, recently went live. In fact, Madden and his inn are all over the Internet: on Tripadvisor, Yelp, the Gore Mountain webpage, and a Warrensburg webpage. He finds that a lot of people book online and that system seems to work well.
Pets are welcome but not smoking. Madden said that he has no plans for a restaurant.
"There are three diners down the road and they are all good at what they do," he said. In addition, he pointed out, the inn is located only five miles from Lake George Village and about 15 miles from Gore Mountain.
Both the rooms and the suites are equipped with refrigerators, microwaves, and coffee makers, allowing for limited cooking.
Room rates vary, about $100 a night for a room with two queen-size beds and $132 for a suite, which includes a lounge area and a somewhat more elaborate kitchenette. There are discounts for multi-day stays and weekly rates during the off-season.
The inn is located at 4046 Main St. in Warrensburg. The telephone number is 518-623-2955.