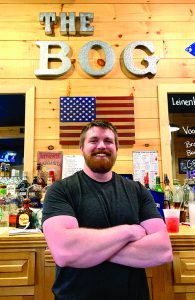 by Andrea Palmer
The Bog restaurant has re-opened its doors in Cambridge, under new ownership.
Mark Harwood purchased the bar and restaurant in November of 2018, after the passing of previous owner Patrick "Pat" Guidon. The well-known local establishment had been in operation for nearly four decades.
Davin Saari is continuing as bar manager for the establishment. Saari has been with the restaurant for years.
Harwood had been a customer of the establishment for years.
"I bought an airplane from the Cambridge airport about 14 years ago, and I just needed a place to go have a burger and a beer after I flew," said Harwood, who lives in Argyle. "I went to Cambridge, where I found the restaurant."
At the time, the restaurant was called Foggy Notions, with the nickname The Bog.
"It was the meeting place in town, where people gathered to get together. Kind of the hub of the town," said Harwood.
Previously, Guidon owned and operated the restaurant for 38 years. On the restaurant's 25th anniversary, it was presented with the "Key to Cambridge" by the village, in honor of Guidon's and the restaurant's contributions to the community over the years.
Guidon died in 2018. The restaurant closed the same day of his passing. The liquor license had been held in his name.
Harwood saw the void left by the passing of Guidon, and the subsequent closing of Foggy Notions.
"I saw the need [for the restaurant to be open] because I met so many people there, and had been a customer for so many years. I could tell that the town really needed it back. I moved forward on that opportunity to fill the void in the town," said Harwood.
He bought the restaurant in late November of 2018. He spent months renovating and cleaning the establishment. He opened the restaurant on April 27 with a new name heralding back to its years-long nickname: The Bog.
Harwood brought back a handful of former employees.
The Bog has a menu with familiar items and new additions. Additions include the Bog Burger, a specialty burger mix containing sirloin. The Bog has an extensive bar menu.
"Business has been very good. We're continuing to grow and we're learning a lot. We're doing well," said Harwood.
Harwood also owns Mark Harwood Construction, and has been in business for over 20 years.
The Bog is located at 52 East Main St. in Cambridge and is open daily. Hours of operation are Monday-Thursday 11 a.m. to 11 p.m.; Friday-Saturday, 11 a.m. to midnight; and Sunday noon to 11 p.m. Weekly and daily specials can be found on the restaurant's Facebook page.