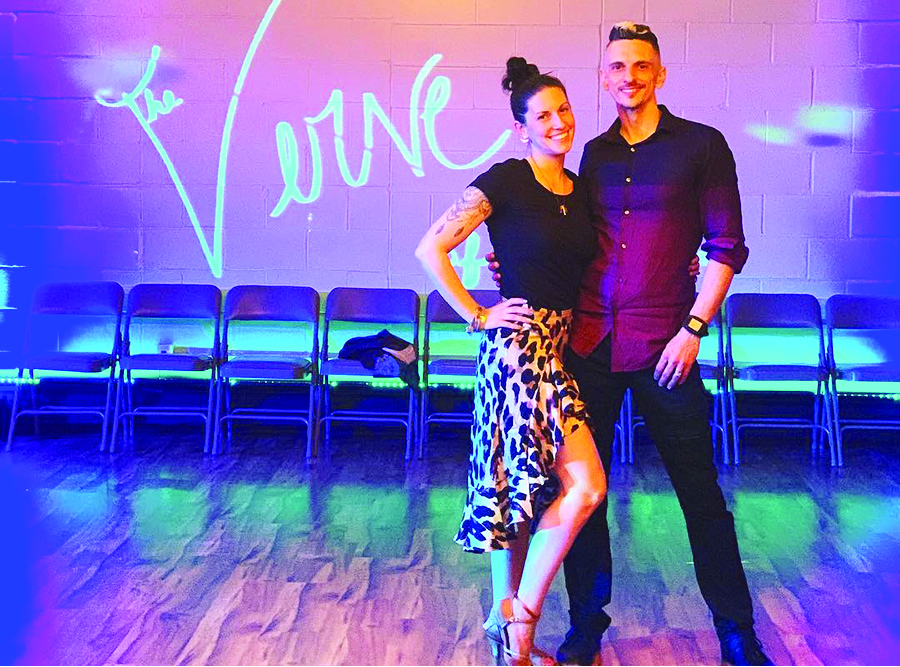 BY ANDREA PALMER
A new dance studio space has opened in Hudson Falls.
ACEntertainment is owned by husband- wife team Aaron and Christy Coulson. The company has partnered with Gospel Lighthouse Church to open a dance studio and event venue called The Verve at 30 La Cross St. in Hudson Falls.
Aaron Coulson is a professional ballroom and dance instructor, DJ and professional entertainer. He began performing professionally at the age of 7.
In early 2019, ACEntertainment came to a partnership agreement with Gospel Lighthouse Church in Hudson Falls to use of the church's large fellowship hall. The hall was accessible, had ample parking and was centrally located. ACEntertainment and the church both saw the opportunity to increase community engagement through a mutually beneficial partnership.
The hall was badly in need of updating, and went through remodeling earlier this year.
The shared space is used by both the church and ACEntertainment. The large studio was re- modeled, and dance classes are held regularly. The space continues to be used as a fellowship hall from time to time by Gospel Lighthouse Church.
Native to the Northeast, the Coulsons lived for eight years in Las Vegas. Aaron Coulson headlined at the Planet Hollywood Casino and opened for Britney Spears. Coulson has been featured in People Magazine. As a professional choreographer, he has been awarded the Broadway World Award, and performed professionally on Broadway, Las Vegas, cruise lines, movies, television and music videos. Coulson has provided vocals on three internationally selling albums, and sang with Barry Manilow after winning the international competition "Fifteen Minutes of Fame".
The couple moved to Hudson Falls in 2017 to be near relatives and raise their family. Aaron Coulson is a dance instructor and choreographer at Glens Falls Ballet & Dance Center as well as co-owner and operator of ACEntertainment. Christy Coulson is Aaron's business partner and wife, and an occupational therapist by trade. She works at a children's educational facility in Rutland, Vt.
"Part of ACEntertainment is helping people find strength and passion through movement and the arts," said Christy.
The Coulson's and ACEntertainment quickly involved themselves in the community when they moved back to the area.
A detailed schedule of classes, workshops and events can be found at www.acentertainment. com, and the ACEntertainment Facebook page. ACEntertainment is also on Instagram.