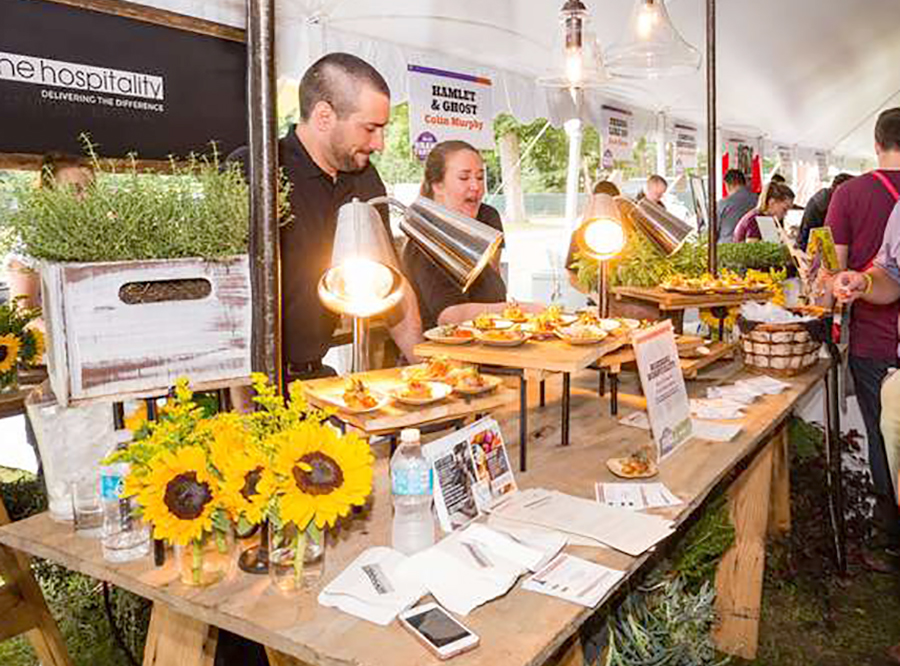 Saratoga Performing Arts Center announced that its Saratoga Wine and Food Festival will return for the harvest season on Oct. 4-5 with a focus on sustainable culinary practices and cultural experiences.
Celebrating the bounty and talent of the region from the Hudson Valley to the Adirondacks, the destination event will feature a new farm-to-table dinner centering around the theme of "Forest Magic."
The 2019 festival will feature live music curated by Caffè Lena, sculptures by The Hyde Collection, photography by Terri-Lynn Pellegri, food tastings and culinary talent curated by John Sconzo of Rascal & Thorn and Kim Klopstock of Lily and the Rose, chef demonstrations on sustainability, VIP experiences, and design by Colin Cowie Lifestyle.
Presented annually at the end of its classical season, the festival is an epicurean showcase featuring two days of gourmet events highlighting fine international wines, innovative chef-prepared menus, cooking demonstrations and wine seminars, tastings, and art and performance.

"Our region is blessed with extraordinary cultural richness and a bounty of culinary and artistic talent. The 2019 Wine and Food Festival will explore the importance of sustaining the richness of the region while celebrating those local farmers, chefs, and artists who have been so committed to caring for our environment," said Elizabeth Sobol, SPAC CEO.
Curated in partnership with Skidmore College, a week-long Cultivate Series will lead up to the festival, offering a diverse collection of free events throughout Saratoga Springs. Aimed at deepening the festival's exploration of sustainability, this series will bring together the community with local experts in sustainable agriculture, health, and environmental justice, organizers said.
All proceeds from the festival directly benefit educational programming at SPAC, which has gone from serving 5,000 students to more than 38,000 students in 2018. SPAC announced its goal to double that amount by 2020, with several new and expanded program offerings.
"As our primary fundraiser for educational programming, which has grown exponentially over the past three years, the weekend event is a festive way to support arts in the community and for the first time, celebrate the beginning of the autumn harvest season," Sobol said.
Tickets to the festival are available online at spac.org, at the box office or by calling 518-584-9330.
Festival events include:
• Sunday, Sept. 29 – Thursday, Oct. 3, in partnership with Skidmore College, the Cultivate Series will feature a series of free events that explore sustainable agriculture, health, and environmental justice with several local experts. The full schedule of events will be announced at a later date.
• Friday, Oct. 4, the new Farm-to-Table Harvest Dinner, 7-10 p.m. It will take place in an enchanting "Forest Magic" setting, featuring live entertainment, locally sourced and sustainable ingredients and top culinary talent.
Guests who purchase a VIP ticket have earlier access to the festivities and dedicated VIP seating with curated food and high-end wines.
• Saturday, Oct. 5, a grand tasting noon to 4 p.m. The weekend's signature event will celebrate the bounty of the region from the Hudson Valley to the Adirondacks with curated gourmet tastings that focus on sustainability, international wine and local distillery and brewery tastings, VIP experiences, art and performance by musicians and artists within the community, and more.
The Saratoga Wine and Food Festival is Saratoga Performing Arts Center's primary fundraiser for its educational programming, including Classical Kids, a collaborative program in which SPAC works with local schools to teach elementary and middle school-aged children about the classical performing arts.
SPAC both designs and teaches dance and music curriculums that educate young students about the world-class performances presented at SPAC. Following classroom studies, SPAC hosts students at a summertime performance of the work that they studied. Graduates of Classical Kids receive two free tickets to a SPAC classical performance annually until they graduate from high school.
For more information about the festival, visit spac.org.