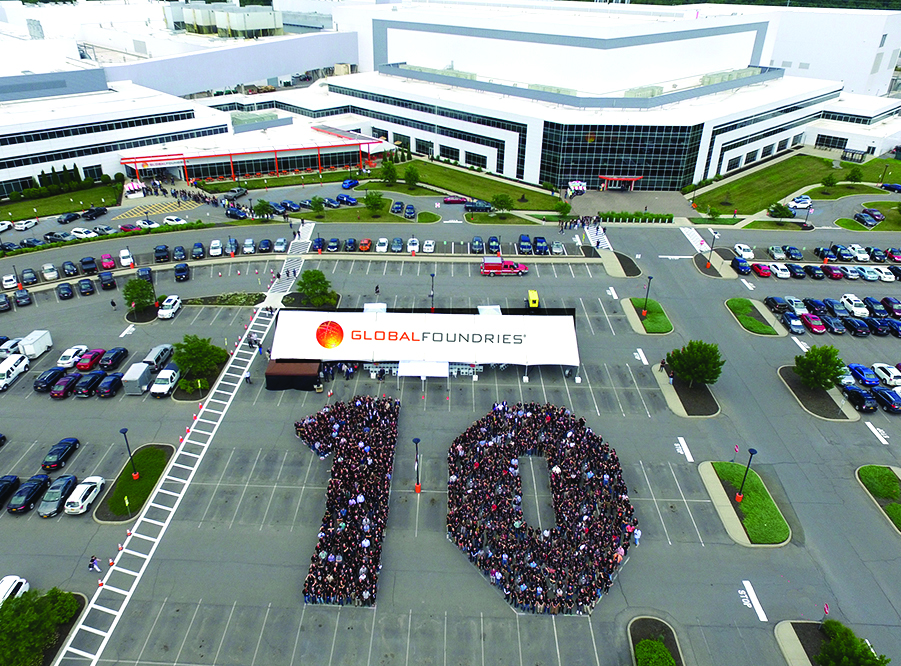 GlobalFoundries Executive Director Tom Caulfield said this is the first year its plant in Malta has stabalized its business model.
He said GlobalFoundries has hired 517 employees at its Malta manufacturing complex this year and the company is searching for another 200 engineers, technicians and support staff.
The hiring spree comes less than a year after the computer chip maker eliminated 450 jobs in the Albany region amid a strategy shift focused on attracting more customers and increasing profitability.
The remarks were made at an event in late July, attended by local officials and business people, to mark the 10th anniversary of the computer chip factory in Saratoga County.
The event was held under a tent in the Fab 8 parking lot and led by Ron Sampson, head of the company's U.S. manufacturing operations.

Caulfield said GlobalFoundries is poised to continue growing as the world transitions to fifth-generation cellular networks, known as 5G.
When construction of the Malta complex began in 2009, it was expected to create 1,465 jobs. The company has more than doubled that projection. The company employed 3,021 full-time staff in Malta at the end of June. It has 16,000 employees worldwide.
In 2018, GlobalFoundries halted a $2 billion investment intended to develop next-generation 7-nanometer chips. But the decision allowed the company to add more customers and increase revenue by focusing on designs and innovation with 14-nanometer chips where there is a much larger market, according to GlobalFoundries officials.
Caulfield said his main focus is to ensure that GlobalFoundries continues to gain market share.
The company is located in the Luther Forest Technology Park on approximately 299 acres. At the event, officials distributed information about its growth and economic impact in the area. Highlights include:
• GlobalFoundries is currently considered among the largest semi-conductor manufacturing facilities, performing the most advanced research, development and manufacturing of semi-conductors in the world. The FAB 8 site represents approximately $15 billion in private and public investment in Saratoga County.
• The GlobalFoundries investment in Saratoga County has met or exceeded every benchmark and threshold (the creation of new jobs and capital expenditures) required under the terms/conditions of the New York state investment/incentive grant approved by the State Legislature in 2006. In 2014-15, the average construction "burn rate" (expense), at the height of our construction, was approximately $4 million per day.
• At the end of June, GlobalFoundries employed 3,021 full-time employees in addition to approximately 250 contingent employees at Fab 8 and 1,372 full-time employees at other GlobalFoundries locations in the state. Total number of employees in New York state, 4,393.
• With gross payroll in 2018, GlobalFoundries added approximately $379 million to the Saratoga County and Capital Region economy with a full-time GlobalFoundries employee earning on average $97,619.00 in annual salary. The induced/indirect impact of GlobalFoundries in New York's Capital Region has created and exceeded 17,000 new jobs as of 2015.
• The FAB 8 complex in Malta and Stillwater consists of approximately 2.9 million square feet of building space including 450,000 square feet of clean-room and clean space (the approximate size of six football fields).
• Over 71 countries have employees in the GlobalFoundries family; 51 countries are represented at the FAB 8 site.
8. Approximately 65 percent of the employees are from New York state and 66 percent live in Saratoga County; 90 percent were hired from inside the U.S. GlobalFoundries focuses on both local hiring and military veteran hiring. Approximately 7 percent of the workforce are veterans. In 2019 to date, 517 new hires have joined GlobalFoundries FAB 8.
• Since 2011, GlobalFoundries has paid over $102 million in county, town and school taxes and was responsible in 2018 for approximately 15 percent of the school tax levy and 16 percent of the average annual cost to educate one student in the Ballston Spa School District and 18 percent of the school tax levy and 19 percent of the average annual cost to educate one student in the Stillwater School District.
• GlobalFoundries has invested $5 million in the communities of Malta and Stillwater; creating two non-profit charitable foundations and investing $1.1 million to develop and construct recreation fields in the Luther Forest Technology Park. The foundations have supported more than 370 community based organizations with a total cumulative award of approximately $1.4 million in grants so far in addition to funding a $1,000 annual STEM scholarship to a qualified high school senior in the Stillwater School District.
• The FAB 8 site consumes approximately 4mg of water per day purchased from the Saratoga County Water Authority and Saratoga Water Services; approximately 474,000 cubic feet, or 4,741.3 therms of natural gas per hour and 120 megawatts of power both purchased from National Grid.
• For the period Jan. 1, 2018, through Dec. 31, 2018, over 90 FAB 8 ambassadors donated more than 10,000 volunteer hours of their time, passion and expertise hosting classroom visits at K-12 schools, supporting college career fairs, and building relationships with higher education institutions throughout the Northeast.
• As of July 1, there are approximately 200 full-time job opportunities at FAB 8.