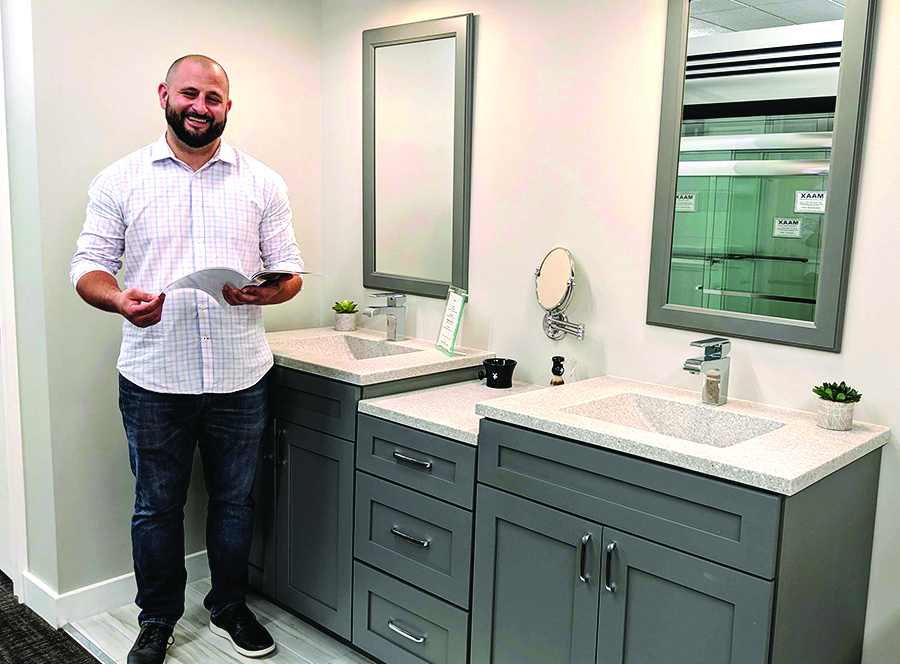 By Susan E. Campbell
Curtis Lumber Co.'s Ballston Spa location will unveil a new bathroom design center this month.
A ribbon cutting is scheduled for Thursday Sept. 12, and there will be a weekend of special events, including tours of the new showroom and the opportunity for "spectacular savings," according to Elmer Manzer, facility coordinator for the store at 885 Route 67.
The company also has locations in Queensbury, Warrensburg and Granville.
A 34-year employee at Curtis, Manzer has seen the rise in popularity of the showroom concept, especially over the last two decades.
"The design centers have been growing for nearly 20 years," he said. "There is a massive project center that is like a year-round home show, featuring ideas for patios, lighting, kitchen cabinets and counters, a one-car garage and many other aspects of home building and renovation.""The showrooms have the same emphasis on quality as our clients have," Manzer said. "Especially when customers may have been saving for many years. They put their heart and soul and a lot of research into their home project."
Curtis clients are both homeowners and contractors who are building new homes or renovating and updating existing ones. Manzer said he sees about an equal demand for new home needs as renovation projects.
Curtis has given "a facelift and renovation of the kitchen section" but the bathroom design center is brand new, featuring the work of the company's three in-house designer associates, Manzer said.
"There are different vignettes where the designer can display their personal style, from rustic to elegant," he said. "Or they can collaborate on an installation and blend styles."
The center has a "warm, open feel" and Manzer said that it features a laundry room, shower installations, simple closet and complex closet concepts, with an array of products at different price points.
"We have created a balance for most people's wants and desires," he said. "People love choice."
Manzer said today's home products are trending around energy efficiency and technology. In a new home, clients generally want the "latest and greatest," while the "one-and-done" homeowner is looking for "longevity and guarantees. If flipping houses, the goal is quality at a fair price."
"Many clients are now integrating Smart technologies into their homes for both comfort and peace of mind," he said, noting that the technology allows setting the thermostat remotely through an electronic device.
"Our primary brand of window is Andersen, which offers anything from vinyl replacement to custom products and Energy Star efficiency. For a well insulated door we offer Therma Tru brand, also Energy Star rated," he said.
Another trending way to improve energy efficiency is radiant heat. But watch out for the type of flooring selected to lay on top of the hot water conduits, he cautioned.
"Tongue and groove, laminates and some engineered woods that float or can be glued on can all go over a radiant heat installation," Manzer said. "But not wood, which has to be nailed in."
Other trends and purchasing decisions are pushed by TV shows, according to Manzer.
"Some clients come in and ask for the sliding barn door or iron pipe floating shelves they saw on a popular renovation show," he said. "These trends can be budget friendly while adding class to a room without a lot of effort."
Curtis staff gives as much consultation as clients may need and "focuses on understanding their environment and how they live," he said.