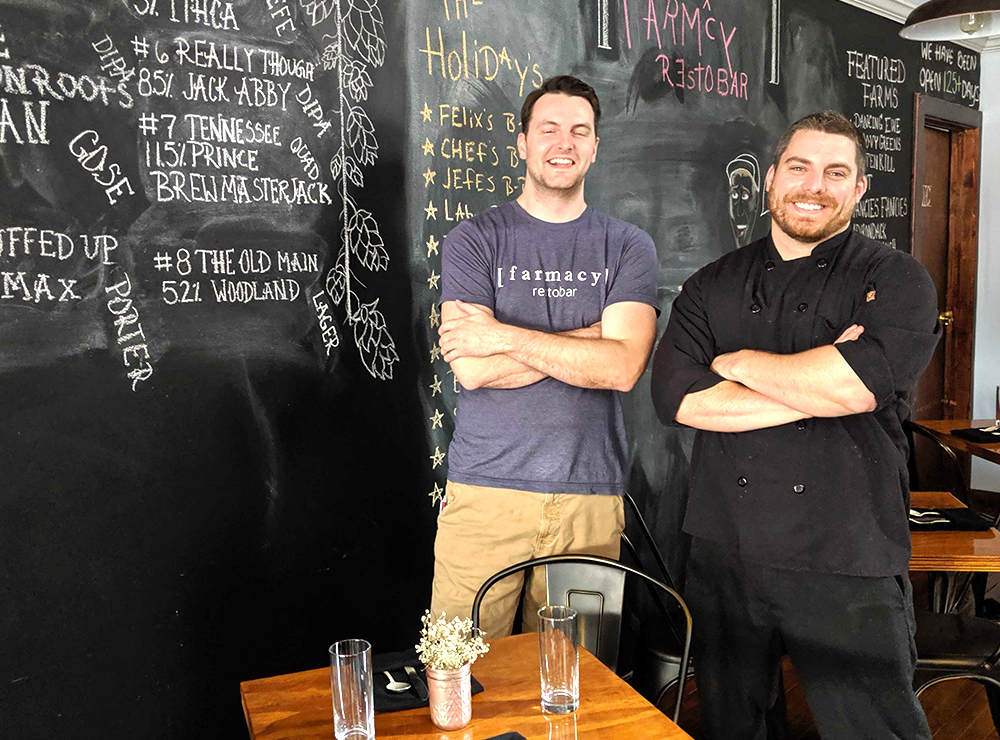 By Susan E. Campbell
A European-inspired eatery has opened in Glens Falls. It's called [farmacy], a restobar, located at 22 Ridge St.
A restobar is a place when people can eat, drink and watch as the food and beverages are prepared only a few feet away.
"You are literally sitting across the table from your chef, which is the same concept as sitting in a bar with the bartender right in front of you," said A.J. Richards, head chef and co-owner with his wife Christina.
The restaurant is intimate, with seating for 44 people. But the real distinction is that everything is open, Richards said.
"An open kitchen such as this is both a blessing and a curse," he said. "It takes a different kind of cook."
But the customers are responsive to the lack of walls, and "the chefs love it too," he said.
The Richards have another restaurant they opened two and a half years ago, [forged] in Hudson Falls. Forged features small plates, healthy options and the same brackets around the name, designed to brand the establishments. Both feature an intimate setting and an "experimental style" of cooking, he said.
"We build a new menu every day based off of what the farmers and producers have available to us," said Richards. "It starts with a concept or an idea of how the ingredients can fit in. There is a different vegan dish, meat dish, bread, and flavor of butter featured daily."
Since dishes are invented and reinvented daily, no menu is listed on the restaurant's website.
The owners considered a few locations but settled on the downtown location which was the former home of GoldStar Pizza. The 100-year-old structure is three floors with offices upstairs.
"I looked to buy the building seven or eight years ago but it wasn't feasible to purchase then, " he said. "But the perfect storm of factors converged."
In the months since [farmacy] opened, Richards said business has gone well.
His wife, Christine, is "the one who makes everything happen," he said. "She runs the front of house, is a mixologist, and has a great palate."
Jon McCormack joined [farmacy] as general manager. Richards said he hired McCormack at [forged] from The Garrison.
The restobar was designed to be "the community watering hole for wine, beer or cocktail drinkers all under the same roof," he said. "The guests love it."
Learn more at www.farmacygf.com.