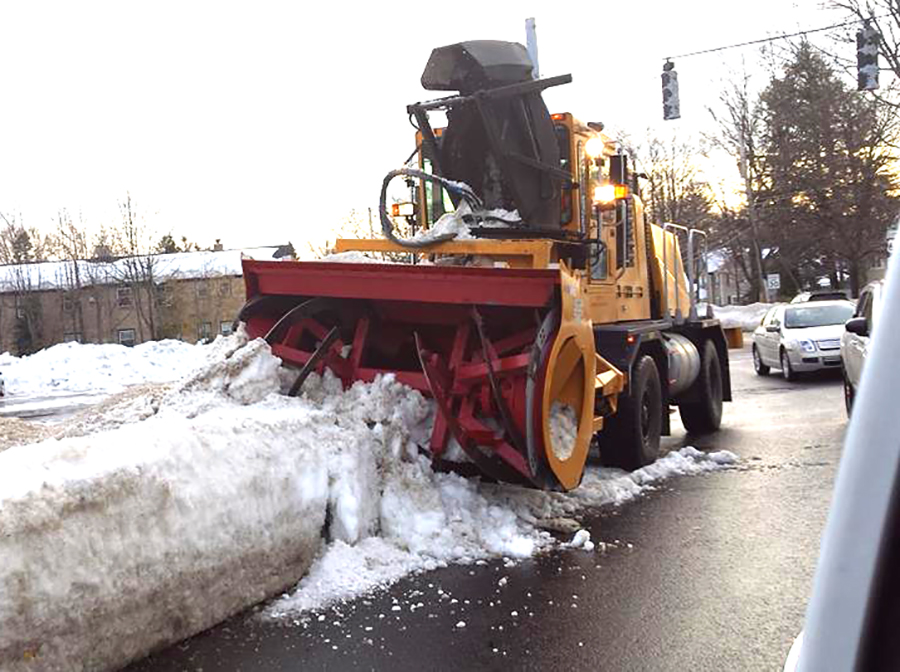 By Christine Graf
North Country Facilities Management and North Country Snow and Ice Management will be relocating their headquarters from 207 Maple Street in Glens Falls to 415 Big Bay Road in Queensbury.
The company hopes to receive its certificate of occupancy by mid-September.
According to chief executive officer Michael Merrill, North Country has outgrown its Glens Falls location and store equipment at seven different locations throughout the area. The company is also in need of a location that provides easier access to the Northway.
"We need more day-to-day operation space and a better location. That's what's bringing us to Big Bay Road," he said. "We will be right near an exit (Northway Exit 18). Right now, our days start with 10 to 20 crews fighting for 20 to 30 minutes to get to an exit."
North Country will be leasing the 1.72-acre property with the option to buy. It includes a vacant, 5,500-square-foot warehouse that will be used for offices, a repair shop and equipment storage.
According to Merrill, the company plans to renovate and expand the existing warehouse. The current building is not large enough to meet current or future needs.
"It's an old, dated building. We can work fine out of most of the shop area, but there are a lot other things missing," he said. "The truth is that we don't fit in that office … We don't have any plans drawn yet, and we will have to go to the architect. Then we will go into the approval process. We are very hopeful that the expansion process can move along quickly."
North Country will continue to utilize several of the storage yards they are currently using. Merrill hopes to reduce the number of off-site storage sites from seven to four or less. The reduction will reduce costs and simplify logistics.
North Country Snow and Ice Management was started in 2003 with just four pickup trucks, four plows, and four owners. The company was founded by Merrill, current chief operating officer Scott McDonald, and executive project manager Ben Murphy. Murphy's brother was the fourth founder, and the brothers also owned a masonry company at the time.
"It was just something we did to keep busy and make extra money," says Merrill. "We would get out of work and then go to a storm with our plows. We made $89,000 in gross sales in our first year."
The company experienced rapid growth, and Merrill was the first to commit full-time. He said the company's snow removal business does "multiple seven digits in" worth of business.
"In the winters, we have to service every client we have on the same day at the same time. It's all hands on deck for snow. I can increase my sales, but I can't hire the people to get the work done. There's a point where we say 'sold out' because we can't service any more people. That's what holds us back. To this day, we are 40 to 50 people short of staffing levels during a storm."
North Country provides snow and ice management services for regional customers, but there is also an emergency service aspect to their business that is project based.
"When you have a foot of snow in Virginia Beach, or you have two inches in North Carolina, everybody needs the same help in those scenarios. We travel for that reason. We're like the National Guard. We pull in with gear and people and leave with our gear and people when we are done," he said. "When we roll in with our gear, we basically put up a command center. Our computers are up, routing is up, software is up, and we have meeting rooms in hotels."
Although the company initially provided only snow and ice management services, they now provide landscaping, irrigation, and mowing services. By expanding to offer year-round services, the company was able to offer full-time employment to some of their best employees.
In 2008, they expanded into the construction business and formed North Country Facilities Management. This company offers services including general construction, masonry and building maintenance.
"Half of the Stewart's you see going up, everything you see on the exterior we are doing. All of the stone, all of the siding, all of the trim, all of the metal. Those are being done by North Country crews," said Merrill. "In other cases, we build the building. We just built the O'Reilly's on Glen Street in the old Friendly's location.
In total, North Country's businesses employs between 40-50 full-time employees and 200 seasonal employees.
"The wildcard in our growth is employees—skilled employees," said Merrill. "Our payroll is in multiple seven digits and our economic impact on the area is huge. We use everything from basic labor to skilled technicians."
For more information, visit northcountryfm.com and northcountrysnowplowing.com.