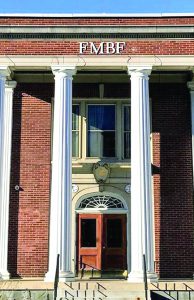 By Susan E. Campbell
The Adirondack Regional Chamber of Commerce will relocate from 136 Glen St., its home since 2009, to 68 Warren St. on Dec. 1.
The new, larger headquarters offers some amenities that translate to benefits for staff, members and visitors alike. These include a large conference room, more parking and an elevator to the second-floor offices.
"First of all, we have been extremely happy with our landlords at Glen Street," said ARCC President and CEO Michael Bittel. "Peter and Suzanne Hoffman have been wonderful supporters of the Chamber and we thank them for that."
The new landlords at the former Genpak LLC building are Fitzgerald Morris Baker Firth PC, law partners who purchased the structure and moved their practice there last year.
"There was some space left over facing Warren Street on the second floor, which has been renovated to our specifications," he said. "Hilltop Construction did the overall updating and interior rebuild."
ARCC is not in a growth mode as far as number of staff. For the time being, the core of the team remains at five individuals: Bittel; Cheryl Stanko, director of finance and administration; Tricia Rogers, membership manager; Amanda Blanton, marketing and communications manager; and Tim Sokol, events manager.
But there are new programs underway. The monthly Women's Business Council that rolled out in September is chaired by Sherry Finkel Murphy and co-founded with Stephanie Dilallo Bitter.
"We are excited about the Women's Business Council," Bittel said. "30 executive women are getting together to discuss how to drive revenue and bottom line in their businesses."
With an increase in square footage at the new location, ARCC can offer more opportunity for events and member meetings.
"Smaller firms from one to 10 people or companies lacking space can use our conference room for meetings or to bring in out-of-town guests, which we love," said Bittel."Our Chamber is 100 percent driven by service. Any way we can help our members, that is what we are here for."
Since 1914, the ARCC has been recognized as the advocate for business in the region including Essex, Warren, Washington and northern Saratoga counties.