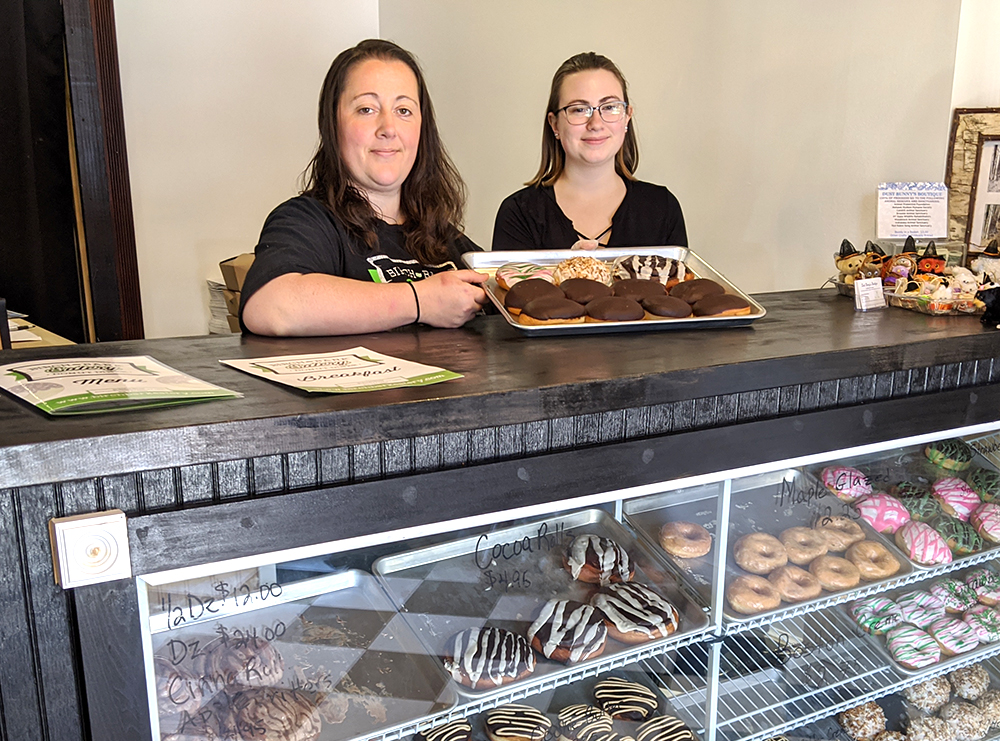 By Jill Nagy
"Our food is so good, it doesn't matter if you're vegan," said Tania Sharlow, owner of Birch Bark Eatery, a vegan restaurant that, after just a year in business, recently moved to a new and larger location at 21 Ridge St. in Glens Falls.
The new location is five times as big as the previous site on Route 9 in Queensbury, giving Sharlow and her crew more work space and room to seat up to 60 people. She also expanded her workforce from four to 10 people.
The new location was formerly home to Cornerstone Pizza Café.
The site did not require much renovation, mainly painting and some upgrading in the kitchen, she said.
She now offers an expanded menu, including pizza.
In addition, the restaurant is re-branding itself as a doughnut diner. "We're more of a doughnut shop now," she said. The new logo has a doughnut-like image.
The doughnuts are made using coconut milk and oil, in addition to all-purpose flour, yeast, sugar and salt.
A different variety of doughnuts will be offered every day, including filled doughnuts such as Boston cream, cookie butter and peanut butter chocolate, classics such as maple glazed and strawberry iced and novelties including pumpkin cheesecake and lavender lemonade.
Birch Bark features classic American food, all of it plant-based. They make their own seitan, a wheat-gluten-based meat substitute. The full menu, including a large variety of plant-based appetizers, is included on the restaurant's website, birchbarkeatery.com.
Sharlow said there is a growing demand for vegan food. Her own conversion to a vegetarian and then a vegan diet motivated her to start the eatery and share what she has learned.
The restaurant offers take-out but does not yet provide delivery.
The Birch Bark Eatery is Sharlow's first venture as a restaurant owner. However, she worked for about 15 years in the restaurant business, most of it with Dunkin' Donuts.
The eatery is open every day but Wednesday. Hours are 8 a.m. to 8 p.m. Sunday through Tuesday, Thursday and Friday; and 8 a.m. to 9 p.m. Saturday and Sunday.
The telephone number is 518-741-0010.