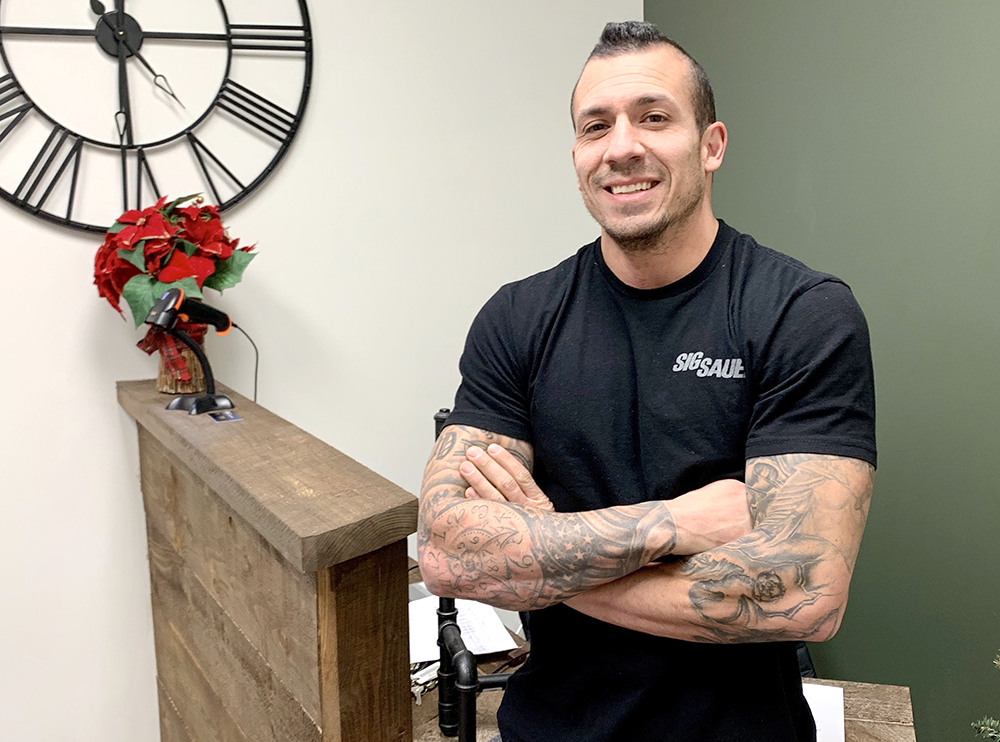 ADK CrossFit In Glens Falls Opens A New Facility Above Its Downtown Location
by Andrea Harwood Palmer
Israel Del Toro has opened his second gym in the heart of downtown Glens Falls.
ADK Fit is a 24-hour fitness facility located above Del Toro's ADK CrossFit gym.
The expansive space is 6,000 square feet, located at 80 Glen St., between NBT Bank and J.E. Sawyer & Co.
ADK CrossFit has been open just under eight years, and moved to its downtown Glens Falls location about a year ago.
"The best part about CrossFit is it's a nice big community," said Del Toro. "Everybody knows everybody. Everybody's very friendly with each other. There's no drama or issues. Nobody judges anyone, nobody cares what anyone can or can't do."
Del Toro is a Marine Corps veteran and learned of CrossFit while serving overseas.
"I was in the military and while I was deployed, there were a whole bunch of officer Marines who were doing it," said Del Toro. "I had no idea what it was, but I just kept seeing them flipping tires and doing all this crazy stuff with overhead lifting. I just wanted to know what it was."
"It's very unusual to go up to officers when you're newly enlisted. It's sometimes considered disrespectful. But I wanted to do it, so I went and asked if I could work out with them, and they let me do so for the rest of the deployment," said Del Toro.
When Del Toro returned to the states, he ran a gym in Lake George called Flex Appeal. He continued doing the CrossFit workouts, and eventually got certified with CrossFit to instruct officially.
Del Toro opened his own gym in late 2012, with official CrossFit affiliation and ADK CrossFit branding being completed in 2013.
"ADK CrossFit is the largest CrossFit facility around. We have all new equipment and enough space for up to 32-person classes," said Del Toro. "We have skiers, rowers, assault bikes, the latest and greatest . We're getting Atlas equipment so we can do more strongman stuff."
ADK CrossFit has seven in-house coaches.
"We have two coaches certified for CrossFit Level 2, and three certified for CrossFit Level 1. We have a gymnastics-certified coach and a strongman-certified coach," said Del Toro. "I have my USA Powerlifting coaching certification, and my USA Olympic certification. There's five of us who have the USA Olympic certification. We cover all our bases as coaches."
Del Toro does personal training and strength conditioning for teams and individuals. He does the training and conditioning for the Glens Falls High School football team and basketball team, as well as for the Adirondack Rivermen hockey team. He also instructs at the Adirondack Gun & Range one day a week.
The new gym has free weights, hammer strength equipment, cardio equipment such as elliptical machines, and arc trainers. "It's all state of the art, brand new equipment," said Del Toro. "We have showers and changing rooms so people can come right from, or go right to work."
The facility utilizes an app allowing clients to unlock the gym's doors 24 hours a day from their phone.
"The plan is to keep growing as a CrossFit community and keep everyone interested in getting in shape," said Del Toro.
"CrossFit is my passion. I've been doing it a really long time at this point. I can't imagine doing anything else," said Del Toro.
The phone number is 518-812-8024 and the website is www.adkcrossfit.com.