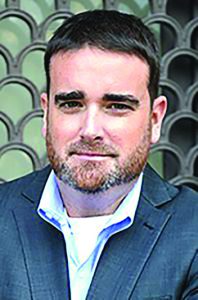 By Christine Graf
For more than 30 years, Albany's Center for Economic Growth(CEG) has been marketing the eight-county Capital Region as a great place for companies to do business.
CEG, a non-profit regional economic and business development organization, is the primary point of contact for businesses looking to expand or establish operations in Albany, Columbia, Greene, Rensselaer, Saratoga, Schenectady, Warren, or Washington counties. They receive funding from local businesses, government grants, and fee for service.
"The Capital Region has a population of over one million people, and that puts us in competitive league with other major cities throughout the country," said President and CEO Andrew Kennedy. "That's something that is important for businesses when they are considering their relocation efforts. We work to raise visibility of the general population, the strength of our economy, the health of our economy, and the opportunities we see with development sites. That includes sites in Fort Edward, Queensbury, and along the corridor of (Northway) exits 16, 17, and 18 in Warren County."
Kennedy has a wealth of state government and economic development experience. Prior to joining CEG four years ago, he served as deputy director of state operations for Gov. Andrew Cuomo. While working for the governor, Kennedy oversaw the implementation of state policies and programs related to economic development. He also served as Cuomo's assistant secretary for economic development.
CEG employs a staff of 16 experienced economic development professionals. They work extensively with local economic development officials, state government representatives, and regional business leaders. It has long-standing relationships with economic development officials in all eight counties including Warren and Washington.
Kennedy said CEG worked extensively with Washington County and local government leaders to bring Texas-based pipe manufacturing company WL Plastics to Fort Edward. In November 2019, the company announced plans to purchase a portion of the property located at the former General Electric dewatering facility. The site will be home to the company's ninth U.S. facility and its first in the northeast. Fifty new jobs will be created when the manufacturing plant becomes operational later this year.
In order to market the 5,336-square-mile Capital Region to companies such as WL Plastics, Kennedy said CEG touts the region's affordability, livability, accessibility, R&D capability, and 24 institutions of higher education.
"We spend a lot of time and resources marketing the eight-county Capital Region—including Warren and Washington counties—as a competitive place to do businesses. We do a lot of traveling, going to trade shows and events to engage businesses and talk about the region," he said. "Companies are looking for sites that are shovel ready and located within a large metropolitan area. We have found success by talking about our sites throughout the eight counties as being part of larger metropolitan area of over one million people."
The Capital Region offers a quality of life that many companies find appealing. The region's diversity is one of its strongest selling point, he said.
"You can get from the woods or a lake to downtown Albany in less than an hour," said Kennedy. "That's attractive to companies because they can offer employee a variety of different things—urban, suburban and rural lifestyle. It's a way to attract the talent they need. For example, we talk about the great quality of life you can experience in Warren and Washington counties. From the revitalization of downtown Glens Falls to the lakes, mountains, and unique farm to table experiences."
In addition to marketing the Capital Region to businesses, CEG offers a variety of fee based services to local businesses. They also receive funding from the federal government to work with small manufacturing and technology companies.
"We help companies in a confidential way with business strategy and growth," he said. "We look at ways we can lower cost of doing business. We also look at ways to reduce utility costs to take advantage of incentives through our state and federal and private utility partners on new technologies."
Glens Falls medical device provider AngioDynamics and Queensbury silver refiner and fabricator Ames Goldsmith are among the local companies CEG has worked with. They also have an ongoing relationship with SUNY Adirondack.
"We've seen success in partnering with our educational institutions such as SUNY Adirondack to take advantage of some of the workforce development programs," he said. "Local companies can work with them to help launch apprenticeship programs."
Kennedy said CEG is currently engaged with several companies that are considering opportunities in both Warren and Washington counties. CEG does not release the name of the companies they are working with without prior consent. They also sign non-disclosure agreements with some of their fee for service clients.
Sometimes New York's tax rates are an issue when trying to attract new businesses to the state.
"There are issues where we have a higher tax structure than other states," he said. "But when you look at quality of life and our livability and affordability stats, those are things that are unmatched as compared to other places. Our home ownership and rentals costs are lower than in most other areas. Our average per capita income is higher than in similar metropolitan areas, and we have so many cultural and recreational opportunities. We also have a very robust private sector in manufacturing."
In order to remain competitive with other states, Kennedy said it is imperative that state economic development incentives continue to be made available. It is because of those incentives that companies such as GlobalFoundries have chosen to operate in New York.
Due to the Capital Region's history of stability and its reputation for being able to support large projects, Kennedy believes the region will continue to remain attractive to new businesses.
"This is a region that can support large scale deals because we can work together to get things done," he said.