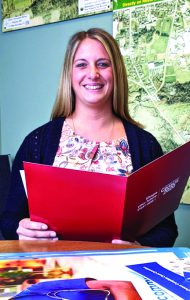 By Susan E. Campbell
The Washington County Local Development Corp. (WCLDC) closed the year more quietly than in the recent past. But already in 2020, there are 10 new applications for loans in contrast to the five new loans that ultimately closed in 2019, according to Deanna Derway, president and executive director.
"Loans were made to a variety of different and unique companies, officially crossing the $18 million mark for total funding lent since the Corporation began in 1985," said Derway, who has been with the WCLDC since mid-2008 and has headed it up since 2013. "That is a significant amount of funding across businesses in Washington County."
January through March is the state reporting season for WCLDC, along with any other entity with public funding, and Derway has been busy with spreadsheets.
"Compared to the past four years, activity in 2019 was a little quieter," she said. "We have nearly $700,000 to loan right now."
A company can borrow up to $150,000. To be considered, the applicant must be partnering with, or have been denied by, a bank. It also must be a for-profit company committed to creating jobs.
"Many different companies and startups from a variety of sectors contact us as well as banks looking to partner with us," she said. "It is going to be another significant year based on the number of applicants I am already working with as of March 1."
As in the past, most of the loans currently in force are represented by the manufacturing sector, which is up to 36 percent of the program's current portfolio. The next largest sector is food service at 24 percent, according to Derway.
The success rate of the WCLDC loan program continues to be very high, as was reported last year and previous years. Derway said WCLDC has a 91.7 percent success rate across their portfolio, leaving only 8.3 percent that has had to be written off.
"New York State views around 20 percent or less written off as positive, so the low rate here in our county speaks to those at WCLDC now and in the past doing their due diligence," she said.
Derway said she was comparing some statistics recently that showed funding activity by decade. Of the low 8 percent of loans that failed to come to term, 71 percent of these were from the decade of the 1980s, she said.
"This means that the rate of writing off funding has been very low in the 2000s," she said.
As to what lies ahead, Derway looks forward to working with the five new members of the 17-person town Board of Supervisors that is elected bi-annually and which she said represents a significant turnover.
"It is a privilege to work with the board and with businesses in the county," Derway said. "The best part of my job is working with people and helping them obtain funding they would not get otherwise."
Visit www.WCLDC.org to learn more about economic development in Washington County.