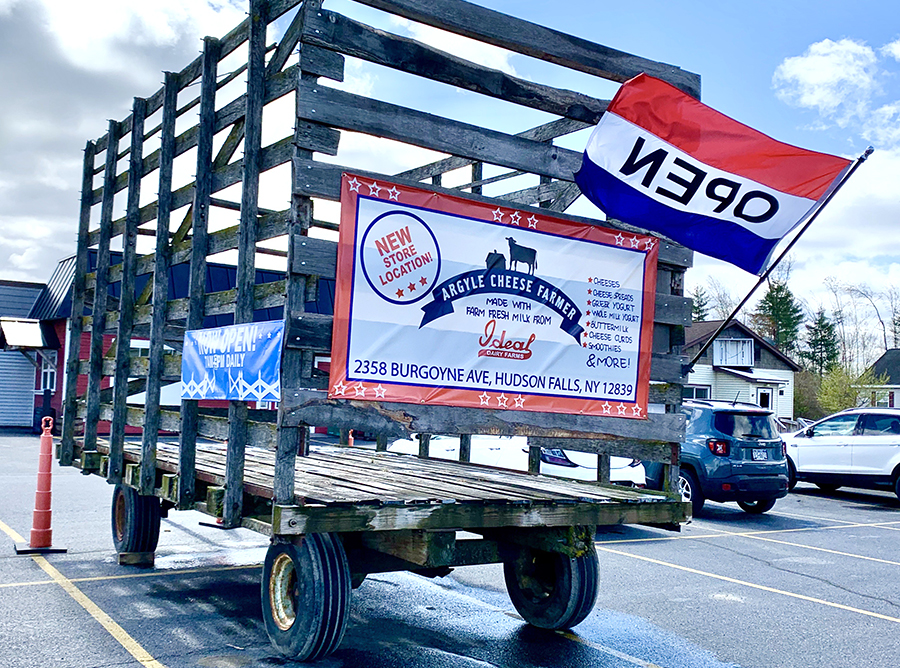 By Andrea Harwood Palmer
Argyle Cheese Farmer, the cheese manufacturing business on the farm of David and Marge Randles, has opened a storefront location at 2358 Burgoyne Ave. in Hudson Falls.
The Randles cheese farm location in Argyle is on a 225-acre family farmstead dating back to the 1860s. The storefront in Hudson Falls gives the owners another outlet where people can find and purchase their popular products.
Their products can be found in many area stores and they also appear at farmers market events in the region.
The storefront held its grand soft opening at the end of April. In addition to cheese, milk and yogurt products, homemade doughnuts, strudels, buttermilk rolls, fresh bread, coffee and small gifts such as branded travel mugs and tea cups are available for purchase.
The Burgoyne Ave storefront is open Monday through Saturday, 7 a.m. to 3 p.m. and Sunday 9 a.m. to 3 p.m. The property has a serving window for those who do not wish to come inside.
Battenkill milk products from Battenkill Valley Creamery in Salem, fresh eggs and apples are also a staple offering.
Argyle Cheese Farmer uses milk from the  family-owned farm to produce yogurt and artisan cheeses. The 225-acre farmstead has a herd of 50 cows, and is the site of a small outbuilding that houses processing equipment and supports retail operations.
The "cheese house" on the farm was built in 2007 for the processing of milk into yogurt, butter cream and cheese.
Marge Randles is an alumnus of the six-month entrepreneurial training program, Farm and Food Business Accelerator, run by the Hudson Valley AgriBusiness Development Corp.
Argyle Cheese Farmer's primary production facility is located at 990 Coach Road in Argyle, and is a regular stop on regional cheese tours. In the past, the farm has brought home multiple medals and blue ribbons from the Great New York State Fair and other events.