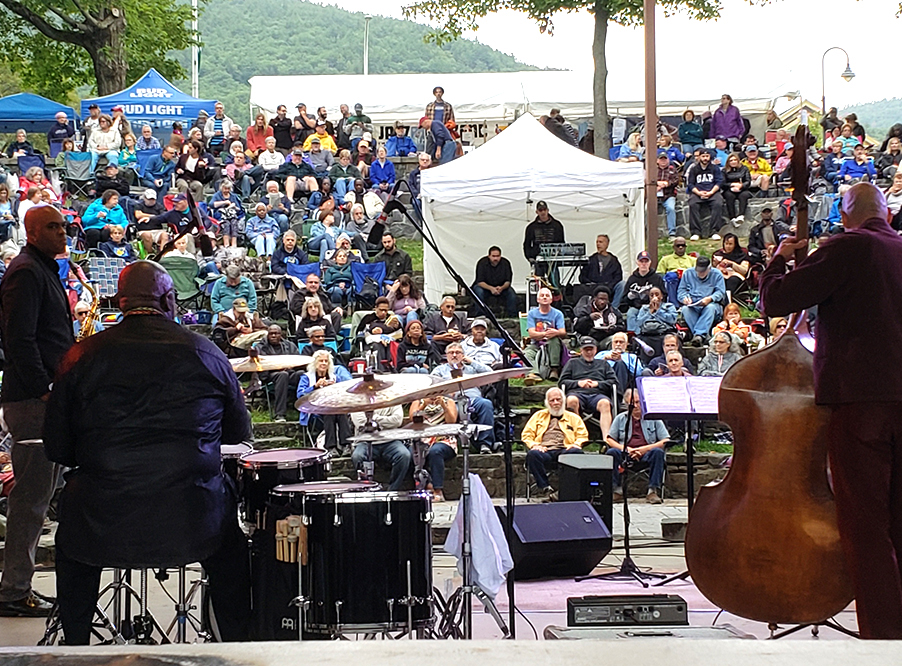 By Christine Graf
Although it is too soon to know what impact the COVID-19 pandemic will have on the local summer tourism season, the local business community is trying to remain optimistic.
In Lake George, it will be difficult for  hotels to weather any lengthy closure. Dunham's Bay Resort on the east shore just outside the village, is typically open year-round but has closed its 40-room hotel. It's restaurant remains open for take out only.
According to general manager Matt Taormino, the hotel furloughed about 10 percent of it staff. He credits the hotel's New York City owner for making this possible.
"They made a commitment to us when this first started to make sure everybody would have a job that needed a job," he said. "We're fortunate that our owners take care of us. They really care about us and take care of the property."
Taormino and his staff are using this time to perform preventative maintenance and make upgrades to bathrooms and banquet rooms.
Dunham's Bay Resort and other local businesses  in Lake George are relying on the Lake George Regional Chamber of Commerce for support and guidance.
"As our state government charts the reopening strategy, they are looking at it regionally. That is helpful for us," Lake George Chamber Executive Director Gina Mintzer said. "For us that are in marketing and tourism, we are going to look at it from the standpoint that first we want to get our locals out and about safely and without fear."
According to Amy Brannigan, senior director of marketing at Saratoga Casino Hotel in Saratoga Springs, the majority of 600 team members were furloughed after the hotel closed March 16. Management is working to develop a comprehensive plan for reopening that incorporates social distancing and cleaning protocols.
And Kevin Tuohy, general manager of the 168-room Holiday Inn on Broadway in Saratoga Springs, said "We are cautiously optimistic.  Although each time I read the news, it seems there is less good news coming out. But, at this point, we are going to do everything we can to make sure that we can be as busy as we can possibly be."
Both Brannigan and Tuohy said their hotels depend heavily on the Saratoga Race Course season. If the track reopens without spectators, summer occupancy rates would plummet. Both hotels are typically at maximum occupancy during track season.
"We certainly hope that is not the case as that is the demand driver in the market for everyone," said Tuohy. "This hotel long term is solvent and will be financially viable. I worry about small businesses—not just hotels—but all of the small businesses that rely on track to drive their revenues."
"We're in constant contact with those folks. We also have the Holiday Inn brand behind us, and they are constantly giving us information and updates. It's changing by the minute," Tuohy said during the first week of May. "There's a lot to digest right now. Clearly the business model is going to change quite a bit. We aren't going to run the way we always have even when we get back to the new normal."
"We are listening carefully to the governors guidance as well guidance from the New York State Gaming Commission," said Saratoga Casino Hotel's Brannigan. "We are developing a plan that will focus on the safety of our guests, team members, and the community. When they say it's okay, we want to be ready to open the doors as soon as possible … We are cautiously optimistic, but we don't think it's going to be in May, but would love to see it in June."
Brannigan said the Saratoga Casino Hotel hopes to resume harness track racing as soon as possible. She expects it will initially take place just a few days a week without spectators. They also plan to resume weddings at The Lodge at Saratoga Casino Hotel as soon as the state allows.
"We are guarded about how this is going to transpire as a season, but I think that we're going to be the fortunate ones because of the radius we are from New York City, and Boston, and New Jersey," Dunham Bay's Taormino said. "I think we have that unique environment where people will be able to come and feel a little safer than normal."
Taormino said industry experts are advising hotels to expect an occupancy rate of 15-30 percent during the month they re-open. Staff efforts are on cleaning, "going into the room, spraying it down, stepping out of the room, going back in, cleaning it, and wiping every single thing down one more time before we exit."
Dunham's Bay Resort has received cancellations as well as new bookings for the summer tourism season. Eighty percent of the people who had rooms booked for Americade in early June rescheduled their bookings to the new July 21-25 dates. "I feel very positive about that," he said. "I also feel positive about moving forward. I lived on Long Island during 9/11, and we got through that and came out on the other side. We will endure this."
"We might be wearing masks for the next year. No one knows," Mintzer said. "Everybody is thinking about how to revamp traffic flow. For example, how does Natural Stone Bridges and Caves come up with a way to make their trails one-way in and one-way out? How will Six Flags be lining people up from ticketing to getting on a ride? These are the conversations that are happening. There are just so many unknowns related to mass gatherings."
According to Tanya Tobias-Tomis, executive director of Lake George Arts Project, she remains hopeful that the Jazz on the Lake weekend  will  take place on Sept. 19-20 outdoors in Shepard Park. It is the nonprofit's largest event. Its largest fundraiser, Bands and Beans, scheduled for the end of March, was canceled.
The organization's operating annual budget is just under $200,000. In addition to receiving income from fundraisers and contributions from local businesses, they receive revenue for the sale of art in local galleries. If galleries are not open, they will lose additional revenue. Because all of their programs and events are offered at no cost, they receive no revenue from ticket sales.
"We aren't really quite sure what it will mean. We will do our very best to avoid having it negatively impacting the programs we present. We aren't interested at all in cutting salaries for artists. That is core to our mission. We also want to offer the same quantity of programming, so we don't want to cut programs," she said. "We are hoping to find new avenues for support."
Nonprofit arts organizations will require new ways to engage audiences
Lake George Arts Projects hopes to receive funding from the National Endowment for the Arts (NEA). The nonprofit has also applied for the Paycheck Protection Program (PPP) and the Economic Disaster Injury Loan (EDIL). They did not receive a PPP loan during the initial disbursement of funds but are hopeful about the second wave.
"Right now, our resources are so limited and unpredictable," said Tobias-Tomis. "We are cautiously optimistic and are planning as if all of our programs will take place. That being said, in the background we are also planning contingency programming as well as new programs that we could offer that may eventually become mainstays in our programming depending on how artists and the public respond to it."
"There's also a very real fear that we won't be able to do the things we do best," she said. "We are all in unchartered territory, and we are all bearing the weight of sustaining an organization when we have never had to deal with an impact this wide and coming from this many angles … Non-profits are very good at adapting to one of those attacks at a time but have no experience with something so wide reaching. But, we will be stronger after this."