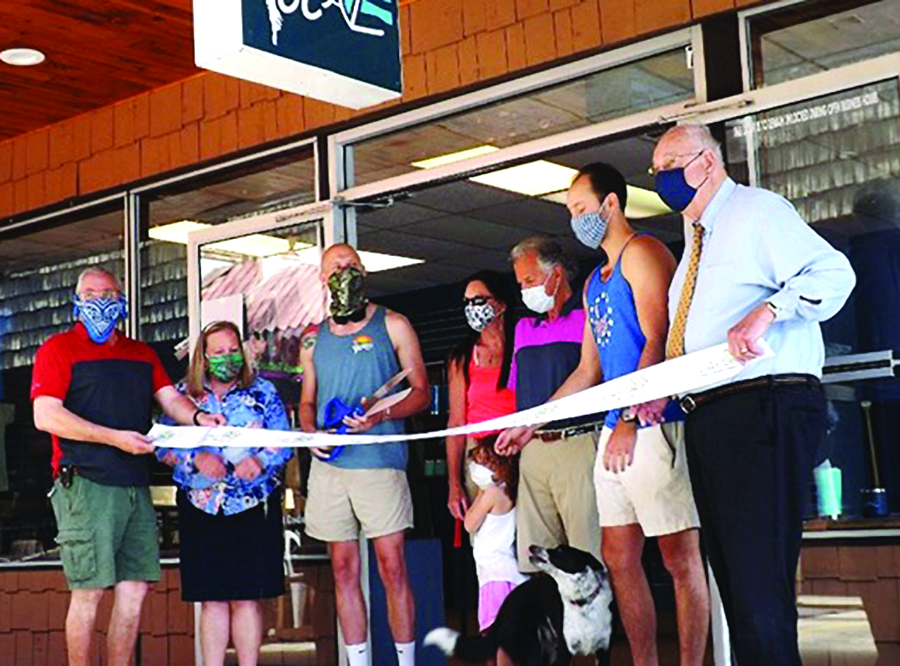 By Jennifer Farnsworth
Local, a gift shop in Bolton Landing, has just opened a second gift shop in downtown Lake George.
The Canada Street shop offers all of the sought-after goods they've been selling in their Bolton Landing store since 2014.
Co-owners Matt Peterson and Domenick Pfau took part in a ribbon cutting ceremony last month to celebrate the opening.
"For us, we wanted to be more accessible to our customers that live more near the southern end of Lake George. We know as well as anyone that the drive up (state Route) 9N in either summer or winter can be harrowing so we wanted to make it just a little bit easier for those locals," said Pfau.
He said they felt the time was right to make their mark in Lake George, where they expect to see a lot of foot traffic from both local residents and visitors.
"Lake George Village is a much larger market than Bolton Landing, based on sheer population, and we thought it was time to become an addition to their boardwalk. We're excited to not be another T-shirt shop in a tourist town, but a lifestyle brand that adds value to the shopping experience and community," said Pfau.
When it came to taking have a second store, Pfau said his sister was a key player. Sara Pfau started her Lake George Jewelry business in 2007, creating jewelry designs from her own drawings. Several years later, she drew an outline of Lake George for her brother, which became a major part of the business brand.
"My best friend and business partner, Matt and I thought that the same design would look pretty cool on a tank top. We started screen printing in our parents kitchens, garages, dorm rooms and basements, selling the tanks and tees out of the trunks of our cars and our website at the time. We opened Local in 2014 in Bolton Landing. We turned a small dream into a reality. We're now able to share our love for Lake George with customers all over the country who hold this place dear to their hearts as well as create products that are perfectly suited for living the Local lifestyle," said Pfau.
Pfau said they currently have seven employees, who he described as people who have an authentic affection for the area. He said it's important to have staff that appreciate the heart behind the brand.
"We only had three last year, but with the second location in Lake George Village, we have a full staff of seven. We put these kids through the ringer during the application process too. We requested resumes, recommendations, interviews, all for just a summer job. Why? Yes, anybody can fold a shirt and make change for a customer, but we wanted staff that is dedicated, responsible and truly wants to be part of the Local brand," said Pfau.
Like many small businesses, specifically retail, Pfau said the pandemic has had an impact on business. He said it is the toughest year they have faced since first opening in Bolton Landing location.
"We sure picked the right time to invest in a new location right?" he said. "However, because of our strong social media presence and online store, our community of dedicated and supportive customers had the ability to buy Local from home. We were so humbled by and grateful to our locals because without them and their continued and overwhelming support, this may have not been possible."
Pfau said being in an area where the community is built on small business, the pandemic has really highlighted how much the community and small business owners depend on each other.
Local is part of the Lake George Region/ Southern Adirondacks Health & Safety Pledge, following safety guidelines and procedures set by the CDC, state Department of Health and regional health offices to keep customers and employees safe. All customers are expected to wear a mask and social distance when possible.
Local is open seven days a week, from 10 a.m. to 10 p.m. Its website is iwearlocal.com.