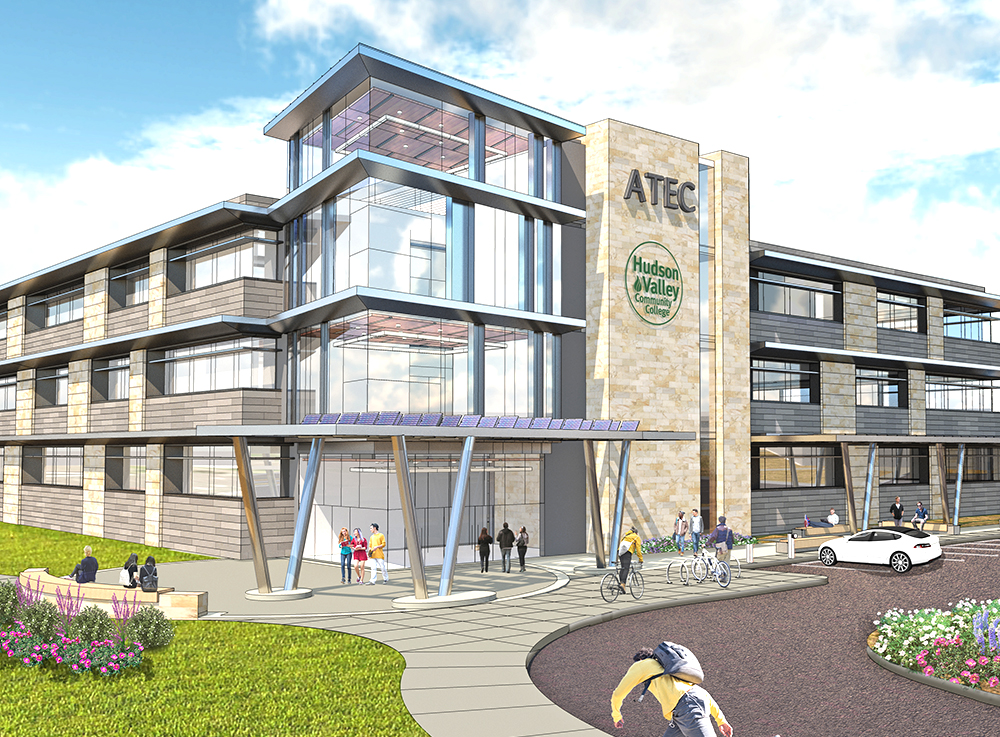 By Christine Graf
Hudson Valley Community College is responding to the skilled labor shortage in the area and across the state by pursuing plans to build a new $65 million facility for skilled trades education.
The proposed 130,000-square-foot Applied Technology Education Center (ATEC) will allow the college to expand its training of the skilled technical workforce.
A capital campaign is underway, and a concept plan of the project has been prepared by JMZ Architects and Planners of Glens Falls.
Construction of ATEC, a net energy zero building, is in the planning phase. The architectural bidding process will begin in one to two months.
Officials said that within 10 years, ATEC will be able to graduate 4,877 technicians in a variety of fields, including mechatronics, plumbing, electrical, welding, HVAC and automotive. That would benefit areas including Saratoga, Warren and Washington counties. UA Plumbers & Steamfitters Local 773 in Glens Falls are among the area groups that have bemoaned the lack of people to fill job openings.
According to Dr. Jonathan Ashdown, Dean of Science, Technology, Engineering, and Math (STEM), "The crux of what we are trying to do with ATEC is build enough capacity into this 130,000 square foot building up front to account for the growth we anticipate. We want to accommodate students that are on our wait list every single year for (STEM) programs."
To illustrate the demand that exists within STEM, Ashdown referenced HVCC's $14.5 million Gene F. Haas Center for Advanced Manufacturing Skills. The building opened in August 2019 and allowed the college to double AMT (Advanced Manufacturing Technology) enrollment from 144 to 288.
"We built capacity into that building and already filled and exceeded capacity in one year," said Ashdown. "We just had to start a wait list for that program."
The addition of the proposed ATEC building will allow HVCC to expand existing programs as well as add a new welding and fabrication degree program.
"Expansion into welding is crucial, as NYSERDA is investing $20 million into an offshore wind proposal for the Capital Region, which will result in the creation of hundreds of local positions to build and assemble turbine bases," said Ashdown.
HVCC estimates that ATEC will generate more than $2 billion in salaries for the regional and state-wide economy. Graduates from HVCC skilled trade programs typically earn starting salaries of $55,000 or more.
"One of the things I would like to get across is just how great of an investment this will be for New York state," said Ashdown. "The is a win-win for the state and Capital Region."
"We are at the stage of working with architectural firms to get the formal engineering plans drawn up. After that, we will be going out to solicit state and federal funding," said Ashdown. "We have a plan to get programs up and running by fall 2021. We will not be at full capacity before the building is complete. We are hoping to have Phase 1 complete by fall 2022 and Phase II by 2023."
Ashdown acknowledged that COVID-19's impact on state and federal budgets could make obtaining funding challenging in the short term. He is hopeful that the timing of the project will align with a post-COVID economic rebound. Corporate partnerships are also in the works although none have been finalized.
"Companies and CEOs have voiced the need for this in the Capital Region especially to support the offshore wind initiative," said Ashdown.
Capital Region companies have also voiced the need for additional trained healthcare professionals to fill the region's more than 2,800 annual job vacancies.
HVCC has responded to this need by announcing plans to build a 7,250-square-foot health sciences building at HVCC North in Malta. It will be located next to the school's existing TEC-SMART (Training and Education Center for Semiconductor Manufacturing and Alternative and Renewable Technologies) building.
According to Penny Hill, dean of economic development and workforce initiatives, current demand exceeds capacity for HVCC's healthcare programs.
"Healthcare is an area where we always have a wait list," she said. "We have capped program due to the intensity of the programs."
The proposed health science building will house state-of-the-art classrooms as well as biology, chemistry, microbiology, and anatomy and physiology labs. It is being designed to provide first year students with the core courses required for HVCC's many health care programs. HVCC North will be considered an extension campus.
"The first year is a foundational year. It gets students started, and then they can go in different directions from there," she said. "We have a good partnership with Regeneron in Troy for biotech science, and a lot of these same courses could be pathways into the biotech field. It's also a pathway for those who want to go on to a four year institution for biology or pre-med."
HVCC's capital campaign for the healthcare building is underway, and Hill estimates they have raised approximately half of the necessary funds.