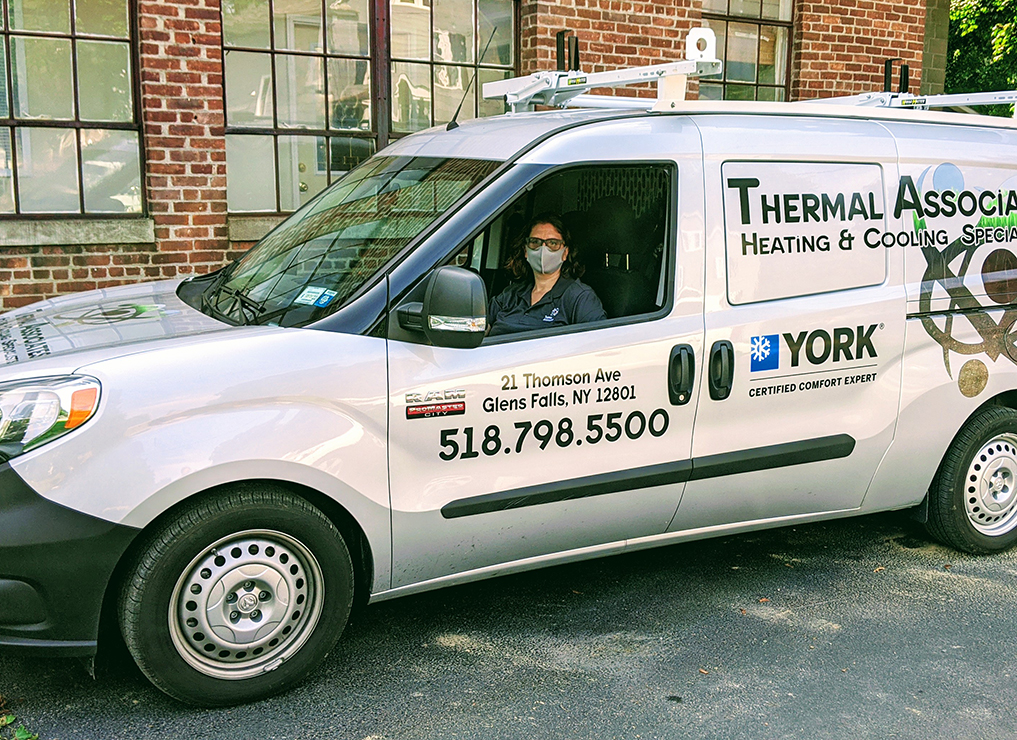 By Christine Graf
The COVID-19 pandemic is causing businesses and homeowners to become increasingly concerned about indoor air quality and the spread of airborne infectious diseases. This concern is having a direct impact on the global HVAC industry.
Many Capital Region companies experienced a significant slowdown in business at the beginning of the pandemic. Some, including Superior Co-Op HVAC of Cambridge, closed during this period. According to owner Gerald Davis, his company was closed for two months but experienced a surge in business after they reopened. He hired an additional employee and added a truck to his fleet to keep up with demand.
"When the governor closed down March 23, we closed up," said Davis. "I laid everybody off because I didn't know what was going to happen. In May, we were able to open back up and the floodgates opened up on us."
Davis attributes the increase in demand to a theory that people who aren't spending money on travel and entertainment are putting money into their homes. Superior works exclusively with Mitsubishi renewable energy systems, and generous company rebates have prompted homeowners to switch to renewable energy.
"We had a big push for air conditioning this year. People are spending more time at home, so they want more comfort," he said. "We work a lot with rebates, and a lot of people have also been looking to switch their homes over to renewable energy. The governor is really pushing people to go to renewable energy, and you can heat your home without using any fossil fuel. We're now backed up through October just installing equipment"
G.A. Bove & Sons of Mechanicville has experienced a similar scenario. Although the company did not shut down operations, business slowed when the governor mandated the closure of non-essential businesses.
According to CEO John Bove Jr., "As soon as everything got shut down, a lot of our customers that had work scheduled got nervous. A lot of people were getting laid off or furloughed. We also have a lot of people who get their annual maintenance and inspection in the spring. They didn't want us in their homes—especially the senior citizens. We went through all of the protocols. We had masks and sanitizer and followed the six-foot rule, but we understood. April was a bad month for us. In May, things started opening up a little bit. And in June, what we saw is that things really took off for replacements. A lot of that was because of the stimulus money."
Even though business has rebounded, the pandemic continues to impact Bove's operations. Manufacturing shutdowns and trucking issues have caused long waits for HVAC equipment orders.
"Everything is just delayed right now," said Bove. "And there is an incredible demand. Our demand is up at least 25 or 30 percent."
Bove didn't furlough any employees, but some opted out for medical reasons. Because of the supplemental unemployment employees were receiving, Bove faced a challenge that has been common for many industries. It was difficult for him to get some employees to return to work because they were making more on unemployment.
Davis experienced a similar situation in his business.
Although Glens Falls' Thermal Associates experienced a slight slowdown in service at the height of the pandemic, partner Marj DeVit said the new construction side of the business remained strong. The company hired two additional employees to help meet demand.
"We had a slowdown in service in the beginning, but we were still quite busy because there are so many people building homes up this way. We also work in the Adirondacks, and we found that we had work coming out of our ears. I think that is very common with the construction industry. We are really, really busy. We've also seen a lot of demand for the MERV-13 filters."
The American Society of Heating, Refrigerating and Air-Conditioning Engineers and the CDC recommends the use of MERV-13 filters. They are able to filter extremely small particles out of the air and may help minimize the spread of COVID-19.
"Any places that have large gatherings have been seeking us out to get MERV 13 filters, but they are in really short supply and we are having problems getting them," said DeVit. "We also have to be careful that it's not going to damage the heating system because it puts constriction on the air flow. So people have to be certain that their system is applicable for it and that they aren't going to cause a bigger problem."
Potential problems are serious and could lead to carbon monoxide leaks. For that reason, DeVit said it is important that MERV-13 filters are only installed by HVAC professionals.
"That's why we've never pushed the MERV-13 filters. With commercial equipment, it can be much more useful. But for homeowners, we recommend that they get proper HEPA equipment instead of just changing your filter."
DeVit said some customers have asked to have UV lights installed into their ductwork. Although the use of UV lights has a proven track record of killing various microorganism, it is unknown if it can kill the coronavirus.
"There again, you have to have them properly installed and your system has to be appropriate for it," said DeVit. "Going forward, I think we are going to see more people putting in UV lights and HEPA filter systems which don't restrict the air flow and don't compromise your system."
Bove said he has had few residential customers express interest in UV lights, but he has received inquiries from some small restaurant owners in the North Country. Although his company has installed the lights, he said they are now virtually impossible to find. Before COVID, supply far exceeded the limited demand for the product.
Davis has not had any customers request UV lights, but he said customers are expressing concern about air quality. He recommends air scrubbers, which can be installed on the Mitsubishi HVAC systems he sells. These scrubbers filter contaminants such as allergens, viruses, and bacteria from the air.
Although COVID concerns will eventually pass, local professionals expect air quality concerns to persist. It is likely that the next generation of HVAC equipment will be designed to help combat the airborne spread of infectious diseases.