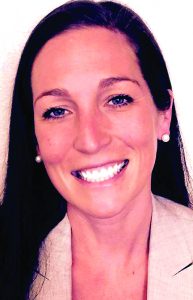 By Susan Elise Campbell
Interior design generally follows style trends, the dominant one today being: Form really does follow function as people repurpose and refurbish their homes for office spaces, schoolwork stations and staycations.
"Home is supposed to be a restful place, but now we are trying to cram an office into the same four walls," said Katelyn Moskos, founder of both Lake George Design and Northern Living NY, a vacation rental management company.
"People don't know how to solve their design issues," said Moskos. "They just know they are stuck in a bubble and want to be inspired and comfortable in the spaces where they live and work."
Moskos said her trademark is working with textures, "such as having a soft material next to a heavy or dense one just for change."
Julie Maleski Putzel, founder of JMP Interiors in Clifton Park, said residential clients are using every square foot to create areas or zones they never needed before the pandemic.
"We are shifting the way we live in spaces, move through them and function in them," said Putzel.
Her forté is "clean and understated but impactful design," she said. "It's a refined approach about contrasts, playing with opposites and blending styles that one ordinarily wouldn't think of but somehow work."
"It could be a closet repurposed into a study nook," she said. "People are being very smart about spaces and furnishings."
Many do-it-yourselfers are contacting JMP Interiors for help with projects like attic spaces that they didn't have time to tackle until they started to shelter in place, according to Putzel.
"With a pantry now functioning as something else, clients are looking for places to store food and organize work and school supplies," said Vicki Ure, owner of Victoria's Corner, her flagship home furnishing and custom decorating store in Ballston Spa. "That could be a piece of furniture passed down from the family or something they already use or buy second hand."
"Older, quality furniture was created with solid wood and dovetailed corners," Ure said. "The drawers were made to slide on runners instead of rails as they are today, so they are deeper and provide more storage space."
Many also need desks as never before to work from home, she said, so maybe a sofa table can become a future work space. Her shop carries an array of antique furniture pieces as well as supplies to refurbish them, including the popular clay-based chalk paints.
"Before the pandemic, we gave classes on how to apply chalk paint, which comes in beautiful colors and has a soft finish," she said. "It adheres to everything without sanding or extensive preparation."
Her customers are trending toward an updated farmhouse style, mid-century modern among the younger crowd, and neutrals with a pop of color, she said.
A more comfortable, functional home is the desire of anyone whose residence is now also their vacation spot.
"COVID shook up luxury spending," said Putzel. "People who used to spend on vacations cannot travel, so this will lead to more renovations at home. Homeowners like tropical and coastal styling, ocean-inspired and a Palm Beach feel and are decorating their homes like the areas they would otherwise visit."
"We may see more people installing salt water fish tanks, for example, because that reflects where they like to vacation," she said. "Or people who like visiting national parks may bring in bark, wood and moss and create a micro-climate until they can get on a plane and travel there."
Whatever their interests are, when people's decorating reflects themselves and their personality, they create happier places to thrive in, the experts said.
Moskos' challenge is decorating homes to be stylish and practical not only for the homeowner, but also for the vacationers who rent their property.
"Homeowners here in the Adirondack area usually go with a mountain theme, but I am more French country with a twist of modern," she said. "Travelers come from all around and I prefer a less-is-more approach with clean lines, not gadgets and trinkets. The vacation homes we manage are not all natural wood, but maybe we would design one element to give it character from its North Country roots."
At the least she might relocate a few pieces of furniture for more freedom of movement within the space, she said. And Moskos is not in agreement with anyone who says couches and chairs have to match. In fact, her style mantra is "the more texture the better."
"Maybe mixing the textures of metal and rock becomes a curiosity that is different," Moskos said. "Your brain tells you that you will want to touch it, so you are actually being invited to sit there."
The experts have found that the way people are thinking about their homes will likely have lasting impact.
"People who are not investing in office or formal attire are reinvesting in their homes and looking at their spaces in a new way," Putzel said.
"Employees making the shift to virtual work on camera are spotting that bookcase in back of them and thinking, is that how it looks? Maybe I should be looking at it differently," she said.
Corporate design is another competitive field and the experts have faced a litany of challenges not experienced prior to the pandemic.
"There has been a major design trend in terms of the use of space," said Sandra Fox, founder of Sensory Six, which emphasizes an "elegant, luxurious and simple style" for residential and commercial clients.
"Clients are seeking flexibility with multifunctional spaces that have multipurpose, movable, lightweight elements," said Fox. "Additionally, office spaces are becoming more private and personalized."
"We are helping client companies pivot and evolve by employing a variety of trends into interior design and redesign, many of which we believe will be permanent," she said.
"Corporations want to advance morale and collaboration among employees while providing a warm and welcoming aesthetic that gives the feeling of home," she said. "Regardless of the industry or the building's use, they need the materials, space configuration and technology that keep employees and customers healthy."
She said "we have upped our game considerably by concentrating on better air filtration systems and recommending smooth surfaces that are easier to clean, versus textured or porous ones. We are designing with new materials that prevent organisms from adhering to them, like those that mimic sharkskin."
Another way buildings can be designed for better health is with plants, which not only scrub the air of toxins like formaldehyde but also "give an emotional sense of well-being for most people," according to Lanette Akerson who founded Plant Doctor, LLC, now located in Glens Falls.
"An interior landscaper accesses the environment created by the designer architect and adds that extra sparkle that brings the interiorscape to life with plants," she said. "We are the last ones to come onto a design project."
Akerson's corporate accounts stuck with her plant design, installation and maintenance service, which was deemed essential, throughout the pandemic. As a result, Akerson was able to realize a goal that was very important to her personally as well as professionally.
Plants are used in offices spaces to cover outlets and extension cords, soften corners or hard edges, improve the flow of traffic, and call attention to certain elements while oxygenating and purifying the air.
"Especially during these trying times, we really need beauty," she said. "It's not about money but about turning things around."
"If there is a silver lining to these very difficult times, it is adding wellness as a core design requirement along with aesthetics and functionality," Fox said.