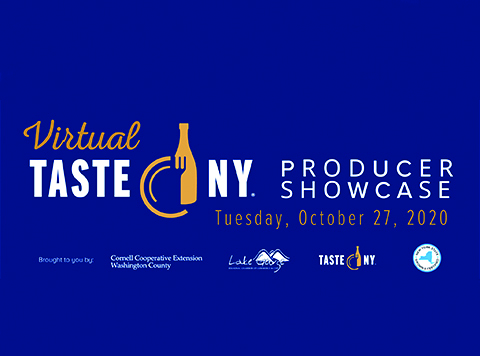 Cornell Cooperative Extension of Washington County and the Lake George Regional Chamber of Commerce will co-host a Virtual Taste NY Producer Showcase on Tuesday, Oct. 27.
Officials said the event will be the first of its kind in the state. The two-hour online event, offered in partnership with Taste NY and NYS Grown & Certified, will provide a unique opportunity for New York food and beverage producers to connect with area food buyers.
The event will help these businesses to expand their reach in the marketplace that, in many cases, has been affected due to the nationwide pandemic.
The event will run from 10 a.m. to noon.
It will utilize Webex, an interactive video conferencing platform that enables vendors to present their products and tell the story of their company in a virtual format, allowing them to reach a wide audience of potential buyers.
Buyers and vendors will have the ability to communicate via a chat feature immediately following each presentation to discuss pricing or offer additional information.
In addition to the virtual presentations, both buyers and vendors will receive an electronic directory of all participants before the event so that they can be both prepared and follow along easily during this fast-paced virtual food show. Many producers will also be offering special pricing to buyers at the show.
Vendor registration for the event opened Sept. 7. Registration will provide access to the full list of attendees and allow two minutes to present their products live to a host of area buyers. Vendors will also be offered a free marketing webinar in advance of the event date where they will learn how to develop a fast-pitch to highlight their products.
The seminar will allow producers an opportunity to prepare for the event and learn new skills that will be useful in an agricultural business environment that depends on technology now more than ever.
The event is capped at 50 producers for the initial event.
Buyers will be required to register as well to obtain the link for the event. Retailers, restaurants, grocers, specialty markets, schools, institutions and distributors are invited to attend. Farmers, food and beverage producers, brewers, cider and wine makers, and distillers are also encouraged to participate.
For more information, call the Taste NY Market at the Adirondacks Welcome Center at 518-487-0045 or visit www.lakegeorgechamber.com/tasteny
The Virtual Taste NY Producer Showcase is a pilot project for the state's Taste NY program and follows a series of in-person business-to-business networking events the program hosted over the last two years.
Taste NY is the official eat-local, drink-local program for New York state. Launched in 2013, it highlights the quality, diversity, and economic impact of food and beverages grown, produced, or processed in New York state.
The program creates opportunities for local producers to showcase their goods at a variety of venues, with over 70 Taste NY retail locations throughout the state. It has helped farms and companies reach more customers, increase online sales, and in some cases, expand the processing capacity of their businesses. Taste NY supports farmers by working closely with the NYS Grown & Certified program.
Learn more about Taste NY at www.taste.ny.gov.