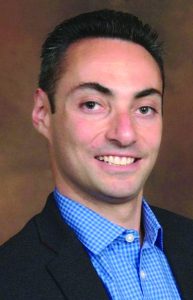 By Jennifer Farnsworth
Opening a fifth location seemed like a natural progression for Adirondack Orthodontics, a locally owned and operated orthodontic practice that serves patients across the Capital Region.
The newest office at 88 Broad St. in Glens Falls is now part of the largest locally owned and operated practices in the Capital District region.
As the founder of the practice, Dr. Sergey Berenshteyn said he had many patients travelling from northern Saratoga and Warren counties down to his Clifton Park office. Opening up a spot that was closer for those travelling south down the Northway for care seemed like an obvious decision to make.
"I knew we already had a client base in that area and I knew going to Glens Falls would not only make it easier for those patients but it would also allow for us to bring in new patients in the more northern areas," said Berenshteyn.
Berenshteyn said the new location needed some renovations but nothing major. The office is part of a suite that opened up and was recommended to him by a friend who was already there practicing pediatric dentistry.
"The opportunity for the perfect location opened up and so we were confident that it would be a good match. We are thrilled to offer caring and compassionate orthodontic treatment to children, adults and families in the Glens Falls area," he said.
The March shutdown of orthodontic practices due to COVID-19 was something that Berenshteyn used as an opportunity to research the opening of a fifth location, as well as how to safely be able to provide care to his patients once the closure ended.
"Luckily in dentistry we already have so many safety protocols in place so we felt confident in our ability to provide care in a safe way. Through a number of safety controls, staff training, adding purifiers and filters, and restructuring the number of patients we have in the office at a time, we feel confident in our ability to provide safe care," he said.
Berenshteyn credits some of his success to his philosophy of providing individualized personal care when assessing each patient. He said this is the best way, he believes, to develop a unique personal health and aesthetic plan.
He earned his Doctor of Dental Surgery (DDS) degree from Stony Brook School of Dental Medicine. He completed an additional year of general practice residency, followed by two years of post-graduate orthodontic training at the University of Detroit Mercy in Michigan.
Adirondack Orthodontics has other offices in Albany, Latham, East Greenbush and Clifton Park. The Glens Falls office can be reached at (518) 631-9771. For more information, visit www.adirondack orthodontics.com.