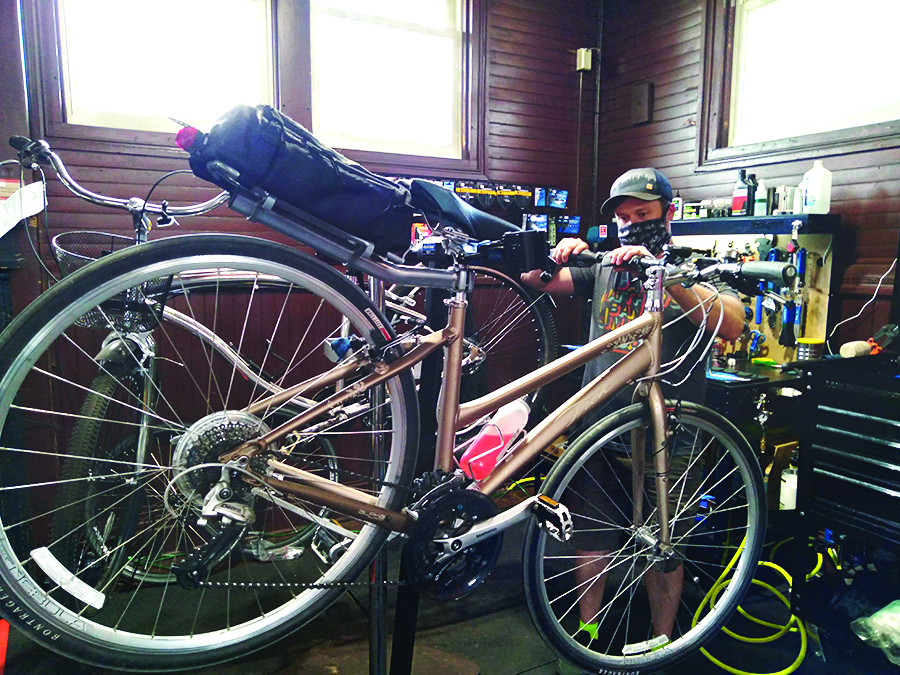 By Lisa Balschunat
Kyle and Randy Cozzens, brothers and business partners, intended to open Evergreen Bicycle Works in the Fort Edward Train Station complex in April, but COVID-19 hit and put the brakes on their meetings with the village Planning Board until June.
"We had our sales tax certificate, keys to the building we were renting, our LLC, but not full approval from the village," said Kyle, a seasoned bike repair expert and former U.S. Air Force aircraft mechanic.
The Cozzens, Fort Edwards natives, worked with the Washington County Local Development Corp. in February and were raring to go, but then the pandemic hit.
"We had to wait," he said. "We worked inside and tried to stock our shelves, but it was hard to get inventory at that time, too."
Kyle said he knew that with the COVID-19 shutdown, Evergreen Bicycle Works would be challenged because the shop wouldn't be open at the start of bike season.
But in June, the Planning Board scheduled a Zoom meeting and within days of the necessary municipal approvals the new shop opened for business.
"We're very excited to be the new business in town," Kyle said.
The brothers originally wrote up a business plan to create a mobile shop in a truck, but after meeting with the WCLDC and the Service Corps of Retired Executives (SCORE), the Cozzens decided to create a brick-and-mortar shop.
Randy, the younger of the two, brings several years of retail experience to Evergreen Bicycle, while Kyle brings his mechanics expertise, completion of a two-month SUNY Adirondack business start-up course and training from the United Bicycle Institute in Portland, Ore.
"At this point, we're looking to hold a grand opening in the spring of 2021," Kyle said. "We've got projects in the works to carry us through winter, like marketing the shop and working on expansion plans … We already have some ideas to create an outdoor seating area and disc golf goal on the lawn next year."
Evergreen Bicycle Works is located at 71 East St. at the Fort Edward Train Station, near the Old Champlain Trail. The shop is open Wednesday through Sunday.
For more details and to schedule a fall bike tune up, visit www.evergreenbicycleworks.com.