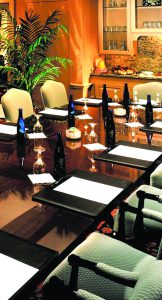 As the nation and the meetings industry continue to grapple with the effects of COVID-19, the Lake George Regional Convention and Visitors Bureau (LGRCVB) has pivoted its marketing efforts to develop an incentive program called Meet Safely Now and Save.
Officials said the goal of the program is to help generate bookings for new traditional and hybrid meeting business as well as benefit the meetings and local hotel industries.
"With so many meetings getting cancelled or re-booked, and budgets getting slashed, we wanted to provide an opportunity that was beneficial to both the meeting planner and the hotel properties by offsetting some of the audio visual costs that might be incurred when trying to create hybrid meetings," said Kristen Hanifin, CSEE, Lake George Regional CVB special event and convention sales director, who devised the program.
The program will be promoted to planners through social media, email marketing, and meetings and event-focused media platforms.
The promotion is for new business only and past events are not eligible. It is valid through Dec. 31.
"Meetings mean business, and great things happen when people come together. Face-to-face meetings build personal connections, positive business outcomes, and strong communities. It's important we find ways to maintain connection safely," said Gina Mintzer, CMP, MHA, executive director of the Lake George Regional Chamber of Commerce.
Marketing efforts are targeting planners within a 3-to-5 hour drive market that might be interested in offering hybrid meetings with in-person and virtual options.
"With all the restrictions on group sizes and limit of 50 people or less, we understand that it is still important for people to meet safely and stay connected. By booking a meeting at one of our many properties that have taken the Lake George Region/ Southern Adirondacks Health and Safety Pledge, you can rest assured that your meeting will be a safe and expertly-executed experience. We know nothing can take the place of a face-to-face meeting and in Lake George, we have been partnering with our local properties to ensure that all future meetings are safe and technologically possible," Hanifin said.
To take advantage of the offer, the LGRCVB must be furnished with a copy of the executed property contract for the room nights booked during this period in order for group planners to be eligible for the funding support.
Contact LakeGeorgeCVB@gmail.com or call (518) 668-5755 for more details.