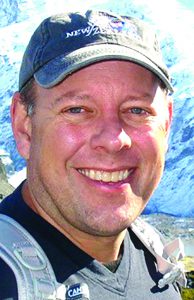 By Jim Siplon
As we say farewell to 2020 and put a year like no other in our rear-view mirror, we are taking some time to recognize the opportunities, as well as the challenges, that are emerging from the most challenging year in recent history.
As the leader of strategic economic development in Warren County, the Economic Development Corp. is proud to be positioning local businesses and municipalities for success in a post-COVID world. Our mission has always begun with attracting, retaining and growing business in our county and has expanded with the advent of the pandemic to include several additional roles fundamental to our long-term economic vitality.
Our business community has demonstrated remarkable resilience and strength. Our large manufacturers have largely weathered the storm and have done all they can to contribute to supporting the community's needs during this crisis. The medical device industry, paper and general manufacturing have shown that resilience.
Our hospital and healthcare entities, led by Glens Falls Hospital and Hudson Headwaters, have been heroes and leaders providing us all with priceless care and support. The locally produced documentary "Behind the Mask," available on YouTube, provides a glimpse to that remarkable work and is worth watching for all to appreciate the remarkable work of our medical community.
Our small businesses have struggled but many have persevered, working diligently to modify their business practices almost daily to stay afloat. Our tourism economy, in particular, rallied together with a collation of public and private leaders to rebound beyond expectation.
There are encouraging signs of new and relocating businesses poised for success with stories such as Kirsh Helmets, Burch Bottle and Packaging and JUST Water all making investments to grow in the area. Area tourism entities invested as well with new hotels as well as investments at many classic resorts, continued investment at West Mountain and Gore and a renewed public-private working group that helped stabilize and even grow our tourism season in the face of a pandemic to near parity with 2019.
There is so much to be encouraged by in all of these developments.
To facilitate this continued growth and help chart a course for success in a rapidly evolving economic future, the EDC is focused on key fundamental enablers that will drive the next generation of economic vitality.
Making sure the entire county has access to broadband and communications is an area on intense activity with an update of our area's existing facilities, a survey launching this month to assess access and service and a regional coalition building to advocate for additional capacity. Continued support of the infrastructure needs, particularly in water and waste water resources, is also a key priority along with clean energy access.
Continued awareness and investment in our county's myriad of world-class recreation assets, including exciting new ones very much in demand such as bike trails, the sport courts and new disc golf course in Crandall Park. Support of ongoing efforts to improve access and viability of public transportation, affordable housing such as the new complex on Broad Street in Glen Falls readying for occupancy, child-care and workforce development are also long-term areas of investment and optimism.
One important new channel of development is the wave of professional relocation that has been in motion for some time but has been accelerated by the impact of COVID. The EDC is investing in understanding this migration with new data sources and analysis. Insights gathered to date demonstrate the validity to this and a sense of volume to it.
Professionals have come to understand that they can do their job from almost anywhere (assuming basic capabilities such as broadband) and are opting for places like ours that have lower cost of living and higher quality of life. To be better positioned for this wave, we are investing in our communications including social media, web, content and member support. The net of this is a growing reputation as one of the best places to relocate your business, professional activity and family by may reputable media sources.
We will continue to develop around this new and exciting channel of development.
Looking forward, we believe the Warren County region is truly positioned for success. We are proud of all in this region for the unprecedented cooperation and commitment to each other and our shared future. We are optimistic about the opportunities for growth ahead of us.
Crisis can be a catalyst for coming together and that is indeed what we are proud to do with the entire community we serve. The business community, municipalities and people of Warren County have grown stronger in the past year and we believe the best is in front of us.