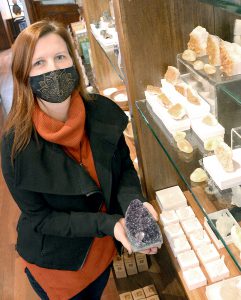 By Jill Nagy
Whether nostalgic for tie-dye T-shirts or need just the right crystal to help get through difficult times, Mystic World strives to fill the bill. The business, long a fixture at the Wilton Mall in Saratoga County and in downtown Lake George, recently opened a new store at 423 Broadway in downtown Saratoga Springs.
They are still trying to get settled in at the new location, owner Violet Cannistraci said, and December was a very busy month, sometimes too busy for store employees to answer the telephone.
She said people found the Saratoga location mainly by word of mouth but also through listings on Facebook and Google. "The support for local business is amazing," she said.
Some shoppers patronized both the Wilton Mall and the Saratoga Springs outlets, searching for just the right crystal. Each crystal is unique, Cannistraci noted, hand picked by her at gem shows.
"My house is full of crystals and I always have crystals with me," she said. They are the most popular item in her stores. People buy them for their possible healing properties, because they are beautiful to look at and as a way to connect with the earth, she said.
Mystic World offers a variety of items in addition to crystals and tie-dye shirts. There are incense, aromatic oils, herbs, candles, jewelry, singing bowls, statues, and a variety of hand crafted items from around the world.
Cannistraci has particular affection for the hand-crafted items and noted that she got her start importing and selling "items I fell in love with (on my travels) and wanted to share with others." She began traveling as a teenager, spending time in Ecuador and buying things from members of indigenous communities there.
Her first sales outlet was a holiday season pop-up store at the Wilton Mall. From there, she expanded to a seasonal shop on Canada Street in Lake George. She has been there for about a decade.
Also for the past decade, she has had a permanent outlet at the Wilton Mall. She was on the lookout for the right location in Saratoga Springs when the Broadway location became available. She opened that store in November.
A native of Vermont, Cannistraci also recently bought a home in Saratoga Springs. She is now setting up for online sales, still "a work in progress."
The shops are open from 10 a.m. to 6 p.m. Sunday through Wednesday and from 10 a.m. to 8 p.m. Thursday through Saturday. The telephone number is 518 886-1202. They are on the web at mysticworldny.com.