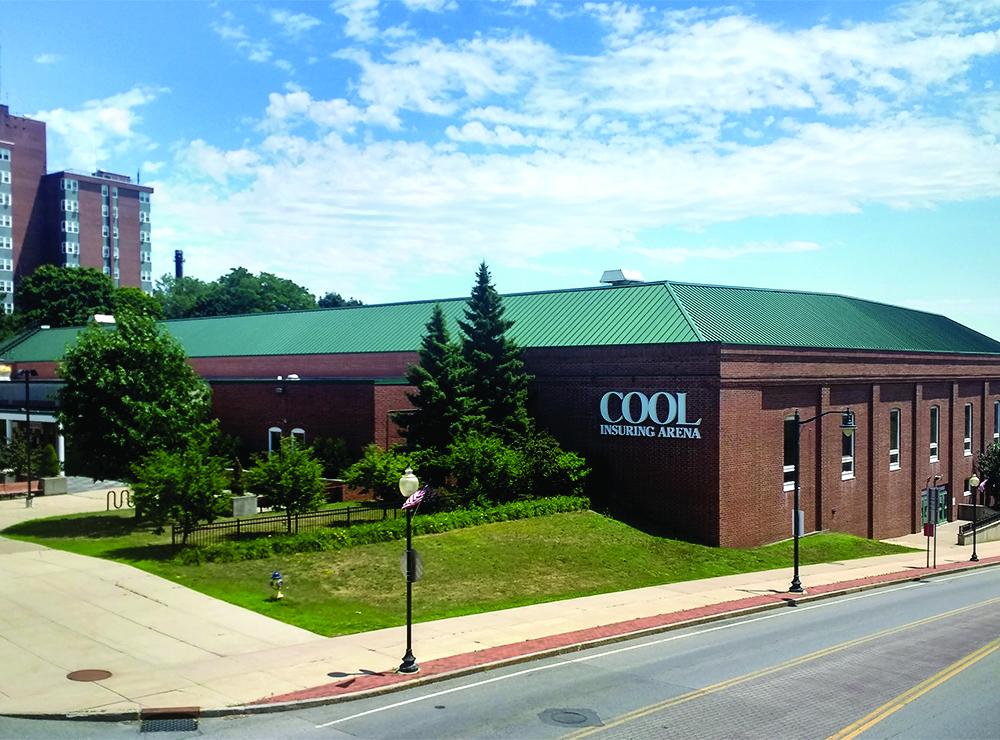 By Andrea Harwood Palmer
Gallagher, a global insurance and risk management brokerage firm that acquired Cool Insurance in Glens Falls in December, has decided the arena in downtown Glens Falls will remain the Cool Insuring Arena, at least through 2025.
The Gallagher agency specializes in serving construction and healthcare industry clients, as well as governments and municipalities, which together account for more than half of its revenues.
Anthony Mashuta, Ira Neifeld and their associates at Cool Insurance will continue to operate from their current locations under the direction of Patrick Kennedy, head of Gallagher's Northeast Region retail property/casualty brokerage operations, and Tom Belmont, Jr., head of Gallagher's Atlantic Region employee benefit consulting and brokerage operations.
"Cool Insuring Agency has operated for more than 160 years and is viewed as the premier independent agency in Upstate New York. Their specialties align closely with our construction, healthcare, senior living and public entity practices," said J. Patrick Gallagher, Jr., chairman, president and CEO. "We are delighted to welcome Tony, Ira and their associates to our growing Gallagher team."
Gallagher has operations in 49 countries and offers client-service capabilities in more than 150 countries around the world through a network of correspondent brokers and consultants.
Cool Insuring was founded in 1857 by Charles W. Cool, who was also the first mayor of Glens Falls.
"Gallagher is a progressive firm with cutting edge technology, and specialties in over 20 areas," said Mike Grasso, vice president, Cool Insuring Agency, Inc.
The merger will make Cool Insuring more competitive, said Grasso, as Gallagher brings to the table additional insurance vendors, specialty divisions and programs. Additional metrics and information analysis will be available as well.
"It will give us a better breadth of the marketplace as we continue to give our clients the best coverage at the best price," said Grasso.
Regarding retaining the name of the arena, Jack Bieniek, vice president, Cool Insuring Agency Inc. said, "We've known all along that this arena is a catalyst to the economic success of our community. So the question for both Cool Insuring Agency and Gallagher became focused on how we can support an entertainment and sport venue together. Community support and involvement was one of the determining factors we evaluated during our conversations with Gallagher about the arena.
Grasso said from an employee standpoint, there will be few noticeable changes. However, from a customer standpoint, Cool Insuring will have more insuring vendors, sectors and options with which to serve their client base. Senior leadership and management have committed to staying on with the agency for several years post-merger.
"Gallagher has been very good about making this as seamless as possible. Our customers are going to have the same service reps as they've had in the past. The average Cool customer will not feel anything with the merger," said Grasso.
"This is a positive step forward. It's not a traditional sale. There will be no closed offices, consolidation of books or move people. We were hesitant to make the transition with a number of suitors, and it was Gallagher's commitment to the community that made us say 'yes' to them," said Grasso.
"A Fortune 500 company of this size is going to be around for a long, long time. We wanted to make sure our clients were with an agency that will be around forever and doesn't get sold to some downstate company that never sees them anymore."
"This helps our international clients immensely. It brings ease of business and an element of competency to these businesses in other countries. When you have a resident agent there who knows the rules and laws of the area, they can walk people through the maze of regulations and local expertise," said Grasso.
Among the specialties at Gallagher are construction and healthcare, two primary market segment areas of expertise for Cool Insuring Agency.