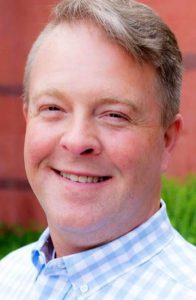 By Andrea Harwood Palmer
James Joseph Jr., owner of Sharp Presents in Queensbury, has opened a Reiki massage practice.
Reiki Rising is located at 458 Glen St. in Glens Falls.
Joseph is certified for Level 1 and Level 2 of Reiki, which is a form of energy healing, in which hands are placed just off the body or lightly touching the body. He was in the process of setting up studio space when COVID hit. Plans were put on hold.
Joseph felt drawn to focus to the practice in the summer of 2019.
"In my head, I kept seeing a blueish-green Phoenix, and hearing the phrase, 'It's time to Phoenix. It's time to step into service.' I felt the connection to starting from nothing and come into full potential. With Reiki energy, it can raise you up and bring you from the ashes. You can be at your worst, and Reiki energy can help bring you back up to your fullest capacity," said Joseph.
Reiki Rising is named from the fabled Phoenix, which graces Joseph's business card.
Joseph was certified by June Stoddard-Finemore, Reiki practitioner and masseuse at Renew with June, 458 Glen St. in Glens Falls in the same building where Joseph sees clients.
"Reiki is a great addition to traditional medicine and standard channels of healing," said Joseph. "It is an excellent add-on. It can help expand and quantum leap your healing process. Reiki works not only with the physical, but also with the spiritual and emotional. It works on a number of levels."
Joseph sets up the space with sage or other fragrance and music. He spends time in the space before his client arrives. He uses a specialized healing light unit under the table. When the client arrives, Joseph spends time in conversation learning what the client needs and hopes to get out of the session.
"In some cases, clients come to me just for the Reiki experience itself," said Joseph. "Other times, it's an add-on to massage or energy counseling. Reiki gives a lot of similar benefits as traditional massage in that it helps remove tension and stress. It's very relaxing. When you're done with a session, you feel rested, relaxed, mellow."
Clients rest on a table, fully clothed, and are covered in a warming blanket like a cocoon. Joseph focuses on areas of the body he senses need more attention. Though some Reiki practitioners implement touch in their sessions, Joseph's methods do not require physical contact.
"It's a pretty basic process … but there are a lot of things going on with healing of past injury, emotional damage, spiritual hang-ups and other issues," said Joseph. "With Reiki, you send the energy into the person and it goes where it needs to go."
Sessions last between 30-65 minutes, depending on what the client has requested.
Clients can call 518-502-9995 or email Reikirising2020@gmail.com to make an appointment. Online appointment scheduling is available atwww.massagebook.com/biz/ReikiRising.