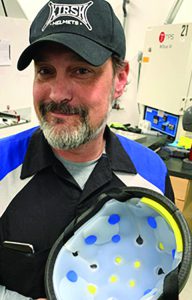 By Christine Graf
Motorcycle helmet manufacturer Kirsh Helmets launched its first product, the CHM-1 half shell helmet, in December. The company has also expanded its network of independent agents throughout the country.
"Our agents are working to get our helmets into stores—primarily motorcycle dealerships," said Donald DeVito, president and chief operating officer. "We have 18 agents right now and would like to add a few more.
Manufacturing and assembly is in full swing at the company's 5,000-square-foot facility in Queensbury. The space is leased from Seeley Machine Work and opened one year ago with support from Warren County Economic Development.
"You launch motorcycle products the same way you do in the automotive industry. You start out of the east coast and west coast and then work your way into the interior. That's how we are approaching it right now."
During the winter, Kirsh Helmets is focusing marketing efforts in southern states that have longer riding seasons. The goal is to establish a strong position in retail stores prior to the spring when the riding season resumes in cold weather states.
"I think this year is going to be the same as last year, which was a record year for recreational vehicles including motorcycles," said DeVito. "It's a naturally socially distanced lifestyle, so riders rode more."
DeVito expects the CHM-1 helmets to be getting into stores by the end of February. They are currently available for sale online as well as at the company's headquarters on State Street in Schenectady. Customers are asked to call ahead to schedule an appointment to view the helmets and try them out.
"We want people to be able to take our helmets for a ride. When people ride the helmet, they love the helmet," said DeVito. "That's why part of our strategy is engagement at the grassroots level. We intend to work the ground game—which is to be at the stores doing bike nights and other events that are related to the riding groups in the communities that we serve."
Kirsh Helmets plans to have representatives at motorcycle shows and rallies throughout the country during 2021. To protect staff and customers, the company suspended its direct engagement efforts in 2020 due to COVID-19.
"We pushed everything to this year. We are hoping with the vaccine and a better management of COVID that we will be able to see more shows and rallies emerge in 2021," said DeVito.
Fourteen of the company's 19 employees work at the Queensbury facility. Kirsh prides itself on hiring veterans and individuals with disabilities. They were recently awarded the U.S. Department of Labor HIRE Vets Medallion Award which recognizes a company's commitment to veteran hiring, retention, and professional development
Kirsh Helmets is registered as a START-UP NY company and is headquartered in the NYBizLab in Schenectady. START-UP NY offers new and expanding businesses the opportunity to operate tax-free for 10 years.
Their helmets are made entirely from components made in the United States, and its patented fluid displacement liner is manufactured in the Queensbury facility.
The liner was invented by company founder and CEO Jason Kirshon who spent more than 10 years perfecting the technology.
The company website is kirshhelmets.com.