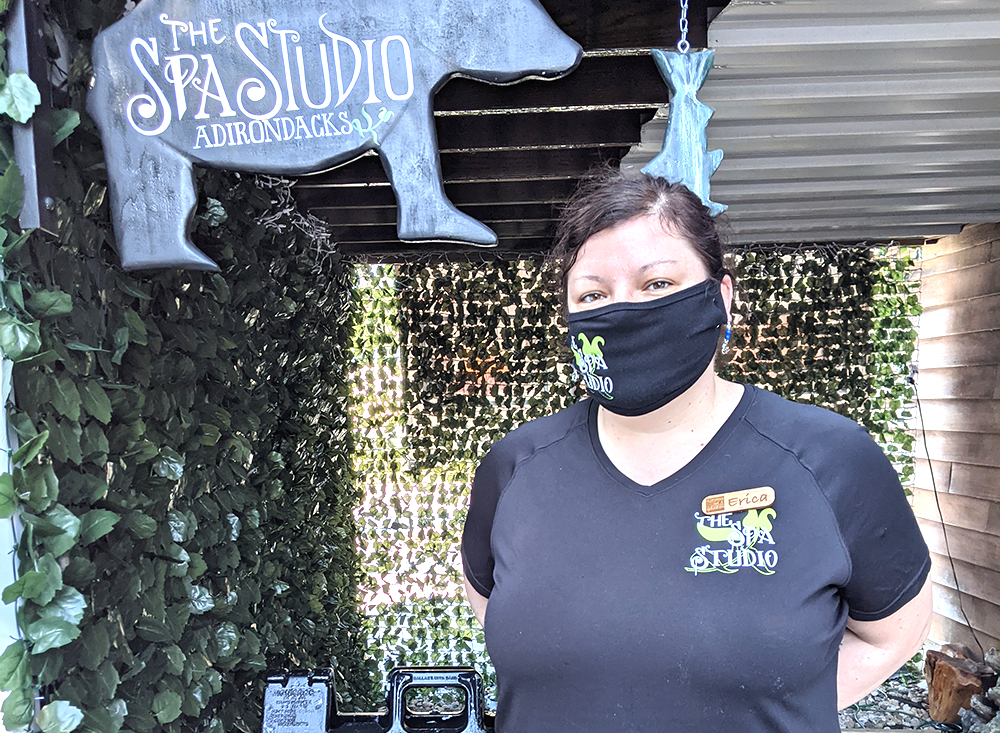 By Susan Elise Campbell
The Spa Studio Adirondacks LLC has relocated to 420 Quaker Road in Queensbury, in a storefront of the building owned and occupied by Heber Travel.
Owner Erica Keays said the move "has been wildly successful."
The COVID-19 pandemic caused Keays and her mother Sharon, co-owner, to rethink the spa they had started together in 2006. They decided to shut down two days before the state mandate that non-essential businesses like spas, salons and stylists close.
"Over the years we really grew and at one point the spa included a full hair salon," she said. "We've moved before. But now it was time to downsize, help my mother transition to a quieter role, and take over the whole business."
Keays is a licensed therapist and her mother, an aesthetician. The spa offers massage therapies, skin care facials and waxing services. Her sister, a nail technician, was brought in 10 years ago, so Keays calls the studio  "a family business."
When the shutdown began, Keays wondered how they could offer hands-on services and comply with state guidelines.
"We thought, 'What will we do?' This is all we've ever done," she said. "But as we thought about next steps, we realized there would be a light at the end of this long, ugly tunnel."
The former address was so large it allowed staff to spread out among eight treatment rooms with an ample waiting area and a loft, making the area feel large and open. Trimming down to three treatment rooms and no reception space changed both the function and atmosphere of the spa, she said.
"The space is beautiful, much more private than previous spaces and, especially with government guidelines, more contained," Keays said. "It has more of the look of a private practice than a loft."
All services are by appointment only and popular spa parties are on hold until further notice, she said. Spray tanning and lash extensions are no longer being offered. It is uncertain if or when body treatments such as sugar scrubs and wraps will be restored to the list of spa services.
While the "substantial menu was pared down," Keays said she never trimmed staff. They have all continued to work full-time over split shifts, alternating start times so they can follow capacity guidelines.
"It's a great crew of people who are highly trained in their different modalities," she said.
One lesson she has learned is "the importance of having confidence in what you do." Early on in the shutdown and as downsizing became a necessity, Keays had wondered if the staff would follow.
"They said, 'Wherever you go we'll come and make it work,'" she said. "As long as I have the support of my co-workers, my mom and the clients, I don't care where our location is."
Keays said the studio "is busier than we expected it to be since the move. Clients love the new space and appreciate our efforts to keep them safe."
The website is www.spastudioadirondacks.com.