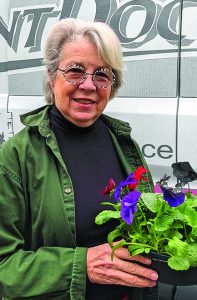 By Christine Graf
When the COVID-19 pandemic shut down many offices throughout the country, Glens Falls-based Plant Doctor lost half of its commercial clients. The interior and exterior plant design service company has customers throughout the greater Capital Region and Lake George.
But many of Plant Doctor's previous corporate clients are re-enlisting her services as they transition their staff back into their offices.
"Most all of my business is commercial—a lot of law offices," said owner Lanette Akerson. "The lawyers are, by and large, working from home and I lost half of them. Half of them still retain our services even though the offices are half-manned or not manned at all."
It was in the midst of this significant downturn in business that The Desmond Hotel in Albany reached out to Akerson and asked her to design the landscaping for the hotel's two atriums. The $75,000 project was the largest project in her more than 20 years at Plant Doctor.
"It was a huge project. We worked on it together and came out with an amazing result," she said.
As a result of that project, Akerson's gross revenue for 2020 equaled that of 2019. Her net revenue was also positively impacted after she made the decision to significantly reduce her expenses.
"Before COVID, I had four commercial vehicles and a car. I'm down to one commercial vehicle and a car. I also had five part-time staffers, and after COVID, I now have two," she said.
As corporate clients transition their staff back into their offices, "companies want employees to walk in and see a well maintained plant design," she said.
As business rebounds, Akerson is finding it more and more difficult to source plants. Greenhouses are not operating at pre-COVID levels and plants are in especially high demand.
"For the last few months, plants that I use all the time—like a common pothos—are not available," she said. "I hear the same thing from interior landscapers all over the country. They can't get plants. We are really having to be creative and think out of the box and try to figure out what to do. I've been doing plants since the 70s, so I know my plants. But for new interior landscapers, it's going to be very difficult for them to make that shift."
Interior landscapers aren't the only ones who have lost business due to the pandemic. According to Jessica Marquard, managing member of LARCH Landscape Architecture and Engineering in Saratoga Springs, her company experienced a ten percent decline in gross revenue.
She has clients throughout the state and is working on projects in the Capital Region as well as in Newburgh, Rome, and Syracuse. Her current clients include GE Global Research Center and Bonacio Construction.
"In 2020, things kind of kept going and we did planning board meetings and site plan permitting remotely in most of the communities," she said. "In November, December, and January, it got really quiet which typically tends to happen with an election. But I think there as also a greater level of uncertainly.
"In February, there was a lot more interest in getting projects going that have been dormant. I think by end of year, we will probably still have lost 10 to 20 percent compared to the 2019 year."
Another sector of the landscape industry, landscape maintenance and installation, has not experienced similar declines. Revenue for local landscapers has been bolstered by increased homeowner spending fueled by federal stimulus money and a dramatic reduction in vacation spending. They have also benefited from the regional boom in new construction.
According to Craig Monroe, owner of Craig's Mowing and Landscaping in Ballston Lake, business in 2020 exceeded expectations, and 2021 is on track to be another strong year. Last year was marked by major supply chain issues that continue to plague the industry.
"In June, we started running into major supply issues," he said. "For example, for the irrigation systems we install we were running into problems getting heads and valves. Hardscape materials—wall block pavers and all those sorts of things—we're having major issues with that as well. Manufacturers were hit so hard with orders that they were choosing what they were producing.
"Some of the less commonly sold products weren't being produced, and there was a backlog of two to six months to get those products. As a result, a lot of suppliers further refined their offerings for this calendar year. Some of the oddball stuff has been completely discontinued."
Monroe has been in business for 15 years and employs 23 workers during his peak season. His company specializes in landscape construction, and their service area extends between Northway exits 8 and 12. They have traveled as far north as Queensbury for large jobs that have exceeded $100,000.
"When the stimulus package came, we definitely saw a surge of people looking to spend on larger projects—hardscaping, irrigation systems, grading," he said. "We're also seeing a huge surge in new construction landscape packages. People are buying houses so fast that builders can't get foundations dug."
According to Monroe, landscapers are riding the wave of increased spending, but have concerns about next year. After people resume spending money on vacations, it is likely that they will spend less on home projects.
"We think that those larger projects  are going to dry up."