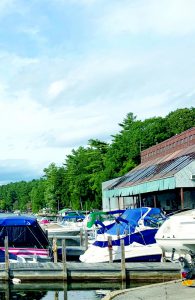 By Jill Nagy
The owners of Freedom Boat Club on Lake George have started a $1.24 million overhaul of the marina.
Matt O'Hara, one of the owners, said renovations will include a rooftop deck, an elevator, a new building facade and a members' lounge.
His plans for the marina itself focus on growing the service department. He is also upgrading the wastewater system.
Phinney Design Group of Saratoga Springs did the design work for the project and BBL Construction Services of Albany is supervising the work. O'Hara expects the project to be completed by next fall.
It is part of a myriad of activities on Lake George regarding marinas.
The estate of John Salvador Jr. has sold Dunham's Bay Boat & Beach Club on the southeast part of the lake for approximately $1.1 million, according to deeds that were filed in March in Warren County.
Two Florida holding companies managed by wealth management adviser Michael Chrys purchased the 9.2-acre marina on Lake George. The purchases were made under the names Mirada 7 LLC and Garner Holdings II LLC, according to the deeds.
Also, Shoreline Boat Sales & Services on Lake George is expanding again with the purchase of two properties on Canada Street in the heart of the resort community, according to deeds filed ion Warren County, also in March.
Jim Quirk Jr. and LG Boats Sales LLC purchased 43-47 Canada St., across from the Fort William Henry Hotel and Conference Center—the former Smith Boys boat dealership location—from Craig S. Merrell and CSM Down East LLC. The 0.75-acre site sold for $695,000.
The Freedom Boat Club on Lake George allows its members to enjoy the joys of boat ownership without the responsibilities. For a monthly fee, members have unlimited use of 20 boats and similar privileges at 265 Freedom Boat Company locations nationwide.
The club is located at the Queen Boat Co. marina, 10 Dunhams Bay Road. Owners Matt and Rebecca O'Hara bought the former Dunham Bay Boat Co. in 2018. They added more docks to the marina and moved the boat sharing club from Beckly's Marina at Diamond Point where they had started it in 2016.
Members of the boat sharing club pay an entry fee of $5,500 to $6,000 and monthly fees of $315 to $415, according to O'Hara. The cost is comparable to renting dock space, he said. The  club's fleet includes pontoon boats, outboards, and power boats. There are no sailboats and there is one boat with an electric motor.
O'Hara sees a strong future in sustainable, emission-free boating.
"A lot of people are really thinking about the environment," he said.
The marina sells electric motors and just added a second line, ePropulsion. They are also dealers for Torqeedo electric motors. The marina rents dock space, sells fuel and boating supplies, and services boats.
Both enterprises have seen considerable growth in the three years the O'Haras have owned them. Membership in the boat-sharing club grew from 14 to 140. The COVID-19 pandemic accelerated demand, he said, as people looked for safe ways to get outdoors.
"The people who tried boating for the first time last year, are not going anywhere," he predicted. "We are really excited for another great summer."
Once the current renovation work is completed, the O'Haras have no immediate plans for further changes, Matt O'Hara said. Over the next few years, however, he thinks he might consider a second phase of renovations including a new showroom.
The 60-slip Dunham's Bay Boat & Beach Club on Route 9L in Queensbury was built by John Salvador Jr., who died in 2018. His son had been operating the business.
The sale of Dunham's Bay Boat & Beach Club comes at a time of strong demand for dock space near the south end of the 32-mile lake, with five marinas changing hands over the past five years.
The majority of sales were motivated by the need for more boat slips to accommodate customers who have been purchasing boats from dealers around the lake.
Shoreline expanded its boat storage two years ago when it constructed a 12,000-square-foot warehouse at 21 Sewell St. near Adirondack Pub & Brewery and High Peaks Distilling.
Shoreline is part of a growing list of Lake George boat dealers that are expanding after interest in boating took off amid the COVID-19 pandemic last year.