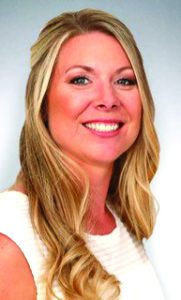 By Lisa Balschunat
EDC Warren County has hired Amy Potter, formerly of Stewart's Shops, as its marketing and communications director.
The EDC has been strengthening its staff over the past year in the wake of the death of its long-time president, Edward Bartholemew, in 2020. Last July, Jim Siplon, former CEO of JUST Water, was named interim president and CEO. In March he was made permanent in those roles.
Potter has been tasked with assisting in "retaining, growing and attracting business to Warren County," an ongoing purpose of the EDC.
"I am looking forward to connecting with the EDC's 100 members and future members in the coming months." Powers said. "I see the potential for growth on several levels, especially with key initiatives in the investment in broadband, housing and infrastructure improvements that drive economic growth."
Powers said she will be reaching out to members "to discuss initiatives that work for their businesses.. I'll be managing our social media on Facebook, Instagram and LinkedIn, and I'm looking forward to learning about area professionals who are sharing their relocation stories on the EDC blog, 'The Upside.'"
The EDC's mission is to drive economic opportunity, growth and prosperity in Warren County by responding to regional business challenges, providing financing and improving infrastructure that generates public benefits, and, leveraging the advantages of doing business to enhance the quality of life for all residents.
"Amy's experience and relationships are well known and will help us forge the path of true public and private partnership needed to become our very best," said Siplon. "Amy is a perfect addition to the EDC and the community we serve." 
Potter brings over two decades of experience in marketing, corporate philanthropy and community engagement to the EDC.
Due to the pandemic in 2020, member functions, fees and contributions were placed on hold. This year, Potter plans to ramp up EDC communication efforts, events and activities with members, when it is safe to do so.
"I'll be making some phone calls," she said.
In the past decade, the EDC has forged over 60 key alliances at the local, state and federal levels including the Business Council of New York State, Center for Economic Growth (CEG) and the Saratoga-Warren-Washington County Workforce Development Board.
EDC works collaboratively with economic development agencies and related organizations and seeks input often from local municipalities to capitalize on business opportunities for the region.
The agency was incorporated in 1992.  Current board members are: Matt Fuller, Meyer, Fuller & Stockwell; Alex Rotolo, Finch Paper; Laura Ladu, Whittemore, Dowen & Ricciardelli LLP; Mitch Amado, Glens Falls Hospital; Kristin Duffy, SUNY Adirondack; Michael Pratt, Olympic Regional Development Authority; Chris Barden, North Country Janitorial; Judy Calogero, Calogero Partners; John Strough, Town of Queensbury; and Rachel Seeber, Queensbury at-large supervisor and chair of the Warren County Board of Supervisors..