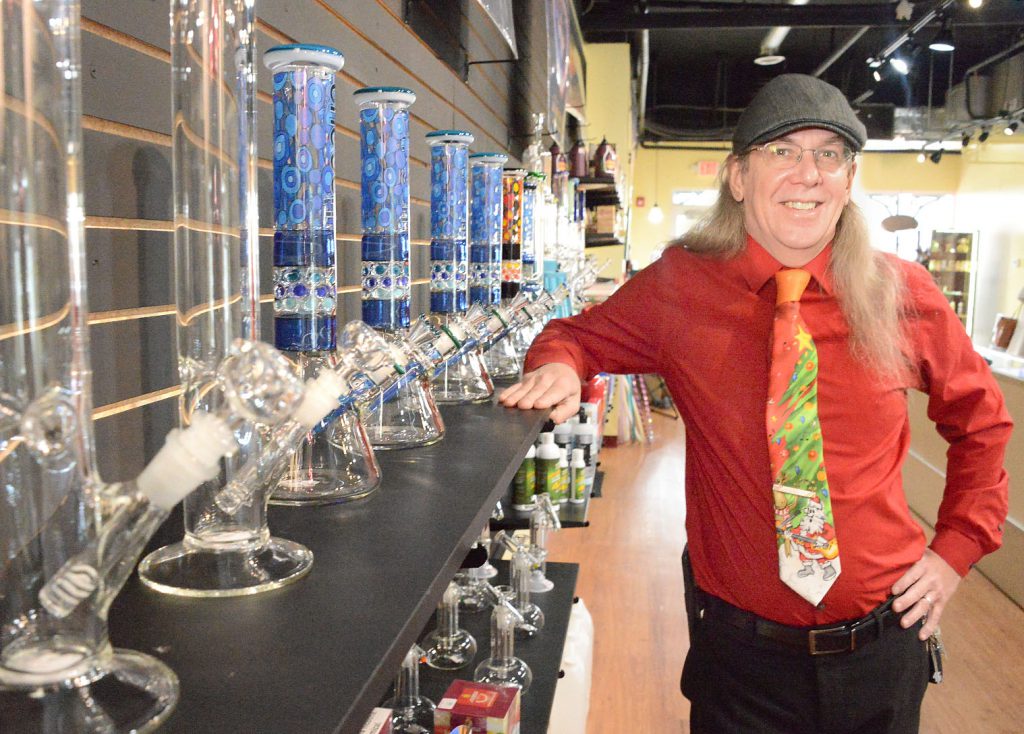 By Christine Graf
Local businessmen Robin Barkenhagen and Brian Bronzino, partners in 42°, a smoke shop and functional art glass gallery in Malta, are pursuing plans to open a marijuana dispensary at 56 Glen St. in Glens Falls.
The pair also have a 42° store at 206 Glen Street, Glens Falls. In February, they established a new business called Warren County Cannabis LLC.
In recent years, Bronzino has purchased several buildings in Glens Falls, including the 5,000-square-foot property at 56 Glen St.
Because marijuana has not been legalized at the federal level, dispensaries must be operated out of properties without loans or mortgages from federally chartered banks. 
But Bronzino "owns the building which is instrumental" in the process, said Barkenhagen.
The state Marijuana Regulation and Taxation Act (MRTA) was signed into law on March 31  and legalizes the recreational use of marijuana for those ages 21 and up. The state Office of Cannabis Management (OCM) was established to oversee the industry, but they have not yet begun issuing licenses for growing, distributing, processing, and selling.
When MRTA was enacted, government official estimated that it would take approximately 18 months before the first recreational marijuana businesses would open in the state.
"I go on the (agency) website every morning to see if they are licensing, but there is still nothing there yet. But that didn't stop us from wanting to start the process with the city. Cities and municipalities can opt out, and we want to make sure they are on record of either opting out or not opting out. We've heard nothing yet, but I don't anticipate an opt out," said Barkenhagen. "We're cautiously optimistic, and that's why we are doing our due diligence now."
The Glens Falls Planning board tabled the issue on March 5. But the partners anticipated the process will move slowly. They said they haven't heard any negative feedback from within the community. It was tabled to give the city more time to formulate their approach, the board said.
Barkenhagen's optimism is based in part on the city's 2018 decision to grant approval for Etain, a medical marijuana company, to build a production and manufacturing facility at Tech Meadows park. The following year, the company decided not to move forward with locating in Glens Falls.
"The fact that they okayed it leads me to believe that they will okay this, but you never know," he said. "The planning board is the first step of what we believe will be a long process."
Although New York will be offering micro business licenses that would allow owners to operate a small grow operation, a small processing operation and a dispensary all in one site, those licenses are expected to be very expensive. For that reason, Barkenhagen and Bronzino are seeking licensing for a dispensary only.
If the dispensary is approved and a license is obtained, the Glen Street property will undergo renovations.
Built in 1830, it is the city's oldest building and was once a blacksmith shop. The property has not had a tenant since Bride & Gown relocated to Saratoga Springs in 2020. Although it does not have its own parking lot, there is a city-owned parking garage just two blocks away.
"One thing we really like about this property is that it is stand-alone. That makes it easier to secure," said Barkenhagen. "You have to have major security because it's an all-cash business. You have to have an extensive camera system and an armed guard and one way in and one way out. This building allows for that fairly easily."
Dispensaries are cash-only businesses because cannabis is federally illegal and the banking system is regulated by federal law. It is for that reason that dispensaries do not accept bank issued credit cards and typically have ATMs on site.
Barkenhagen is aware that not all people will be in favor of having a dispensary in the city.
"There are always going to be naysayers, and you want to work with them the best you can to make sure that their fears are alleviated," he said. "But it's 2021, and I think we've dispelled all the myths about marijuana being a gateway drug. It's not a gateway drug and when you get it at a dispensary, you are going to know what you are getting and you are going to get it from trained professionals."
When and if the dispensary opens, Barkenhagen anticipates it will be challenging to find employees. He participates in a weekly phone call with the Warren County Hospitality Group, and the critical labor shortage is number one on the agenda each week.
"It's bordering on a crisis," he said.