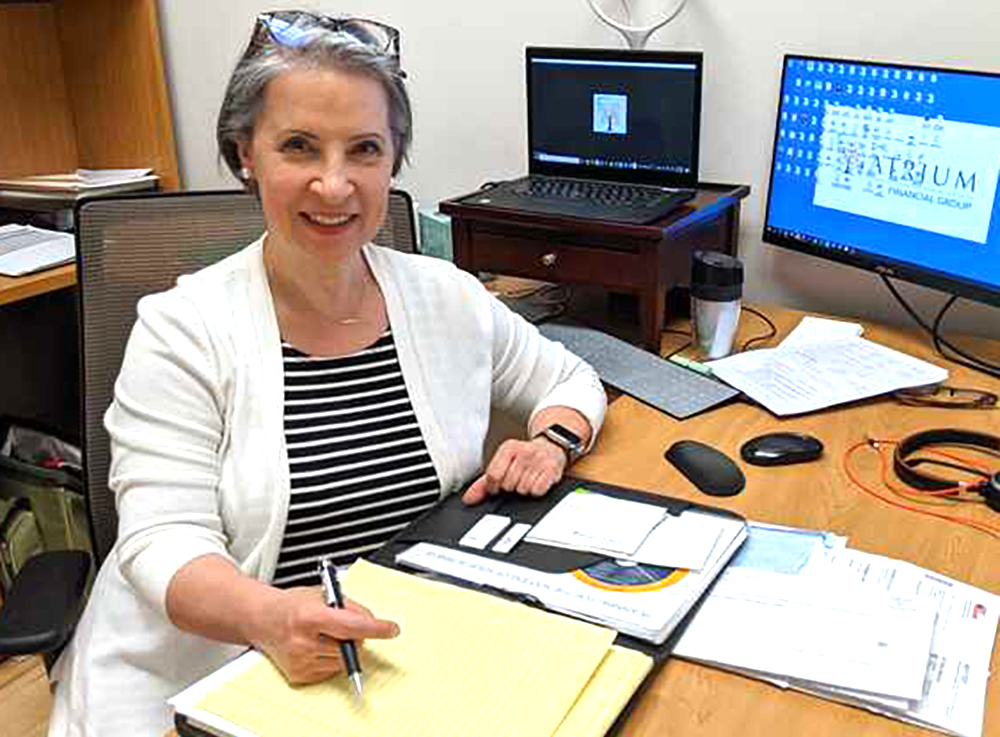 by Andrea Harwood Palmer
Sherry Finkel Murphy, CFP, ChFC, RICP, private wealth advisor of The Atrium Financial Group, has relocated its downtown office to 11 South St. in Glens Falls.
"This endeavor has been several years in the making. It will be a huge benefit to clients and business owners," said Finkel Murphy.
Finkel Murphy was looking for just the right space. Plans were delayed because of the COVID pandemic, but she found what she was looking for at the Empire Theatre Building. The space needed renovations for what Finkel Murphy had in mind.
"There is a dearth of office space in Glens Falls. I am very fond of the building. It is in the heart of Glens Falls, and in the heart of the new Glens Falls in the making," said Finkel Murphy. "It's a beautiful office space. Clients are stopping by frequently. It's nice to give them a space locally so they don't have to drive down to Albany," she said.
"Establishing the Adirondack office of the Atrium Financial Group in downtown Glens Falls is a reflection on our commitment to the multiple generations of business in this community. And what an awesome community it is. It's a great place to live, work and play simultaneously," said Finkel Murphy.
She is the lead advisor  for the company in the Adirondacks. She also leads the Women's Practice of the Atrium Financial Group. Of the firm's six CFP  practitioners, three are women.
The Atrium Financial Group is headquartered in Albany and has 21 associates altogether.
The firm has many clients in the area. The establishment of a Glens Falls office is an opportunity to provide a superior level of service to those clients, she said.
Finkel Murphy has high hopes that the physical presence in Glens Falls will help introduce the firm to people who may not know the benefits of comprehensive financial planning, business continuity and succession planning, and multigenerational estate planning.
In addition to comprehensive financial and investment planning, The Atrium Financial Group specializes in advanced portfolio management, business and succession planning, estate planning, charitable planning and education funding. Strategic tax planning is an overarching theme throughout all services provided.
Finkel Murphy earned her B.A. from the University of Rochester and her M.S. from Rensselaer Polytechnic Institute. She is a founding member and former chair of the Women's Business Council of the Adirondack Regional Chamber of Commerce.
She is a member of the Professional Development Committee of the University of Rochester Women's Initiative, as well as a member of the 100 Women Who Care Alliance of Northeastern New York. She is a board member emeritus of Wellspring and a member of the Estate Planning Council of Eastern New York.
The group's phone number is 518.977.4377. Finkel Murphy's email is sherry.finkelmurphy@nm.com. The Atrium Financial Group can be found at www.TheAtriumFinancialGroup.nm.com.