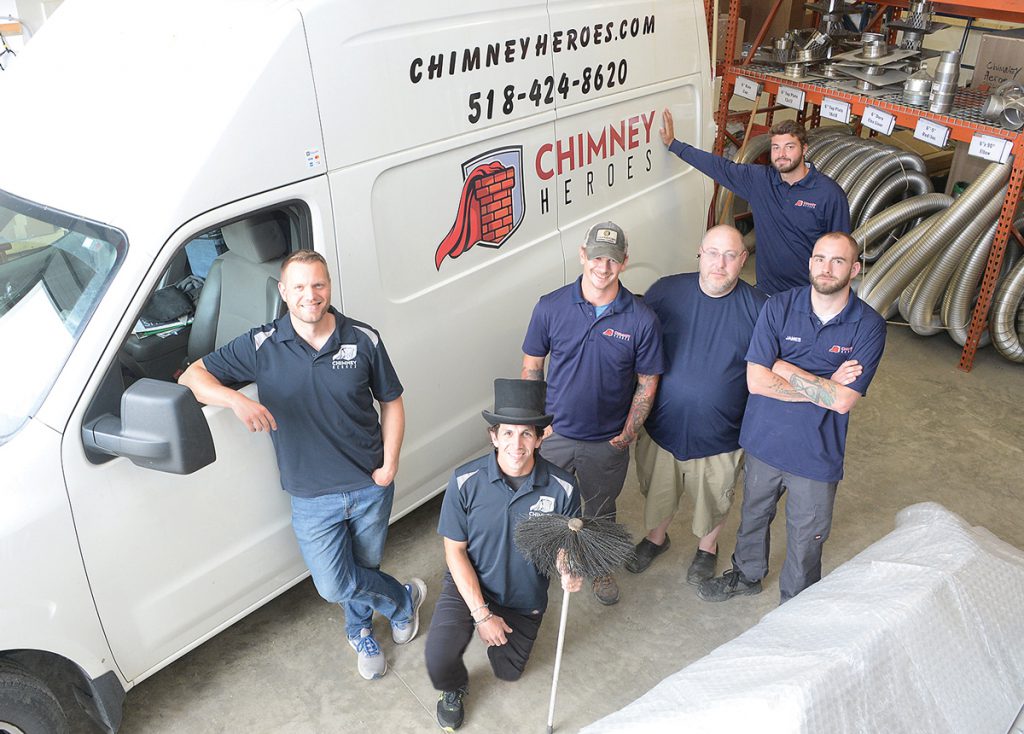 By Christine Graf
After graduating  from University of Albany in 2005 with a degree in business administration, Waterford-native Jamie Wallace applied for a summer youth intern position at Grace Chapel in Jonesville.
"I thought it would be a fun way to spend my summer before I looked for full-time career after college," said Wallace.
He enjoyed the job so much that he applied for a permanent position as the church's youth pastor. Despite his lack of experience in ministry, he was hired with the condition that he agree to be mentored. At the time, he was working on Saturday's for Clifton Park Chimney Maintenance, a company owned by Andy and Jill Looker. Wallace took the job to earn extra money to supplement his youth pastor's salary.
"I did not even know chimney sweeps existed, so it was very new to me. But I really enjoyed it," he said.
A year later, with encouragement from the Looker's, Wallace left his job and started his own chimney sweep business.
"I decided to take a big leap of faith," said Wallace. "A lot of people said I was crazy, but I went out on my own. My goal was to use the biblical principles I had learned and apply them to the business. And I was right."
When Wallace started Chimney Heroes (originally named Saratoga Chimney Sweeps) in 2010, he relied on word of mouth, networking groups, and what he refers to as guerilla marketing to find "customers for life."
"I was waking up at 5 a.m. and doing neighborhood flyers. It was slow going and it was hard, but it worked," he said.
During that time, Wallace and his wife, Gina, relied heavily on the income she earned working as a nurse for the Shenendehowa School District. After the birth of the first of their three children, she was able to leave her job and become a full-time mom.
Today, Wallace has 20 employees and a fleet of nine service vehicles. Pandemic-related supply chain issues have hampered his efforts to add two additional vehicles to the fleet.
The growth of Chimney Heroes was brought on in part because of two separate injuries Wallace suffered while on the job. He was out of work for several weeks, and during that time he earned no income.
"There's no worker's comp when you're a business owner. There's nothing that protects you if you get hurt and can't run your business," he said. "That when there was a shift in my focus. I realized I had created a really nice job for myself, but I didn't have a business."
After hearing from customers that they were displeased with the work that chimney repair companies had performed for them, he recognized an opportunity to build his job into a business.
"I realized there was no reason I couldn't do the repair work myself," said Wallace.
Today, in addition to chimney cleaning, inspection and repairs, Chimney Heroes offers a variety of other services. They perform masonry work, dryer vent cleaning and gas fireplace and stove cleaning and installation. The company also sells wood burning and gas fireplaces as well as wood, gas, and pellet stoves. His service area extends south to Albany and north to Warrensburg.
Wallace and his employees regularly attend industry conferences, trainings and certification programs. He and six staff members recently returned from a three-day workshop and training classes in Pennsylvania.
"I believe in developing people. You can't serve the customer well if you don't take care of your own people," said Wallace. "I love pouring into my employees and giving them opportunities and helping them grow. Leadership development is one of our core values. When a leader gets better, everybody gets better."
Despite the ongoing labor shortage, Wallace has not had trouble hiring employees. He does all of his own hiring and has hired seven people so far this year.
"You really have to put purpose before profit, and you have to give people an opportunity to see what their future could look like," he said. "We have people who love to work at Chimney Heroes. Yeah, we have hard days when it's 90 degrees and you're rebuilding a chimney, but we have a great culture."
For more information, visit chimneyheroes.com.