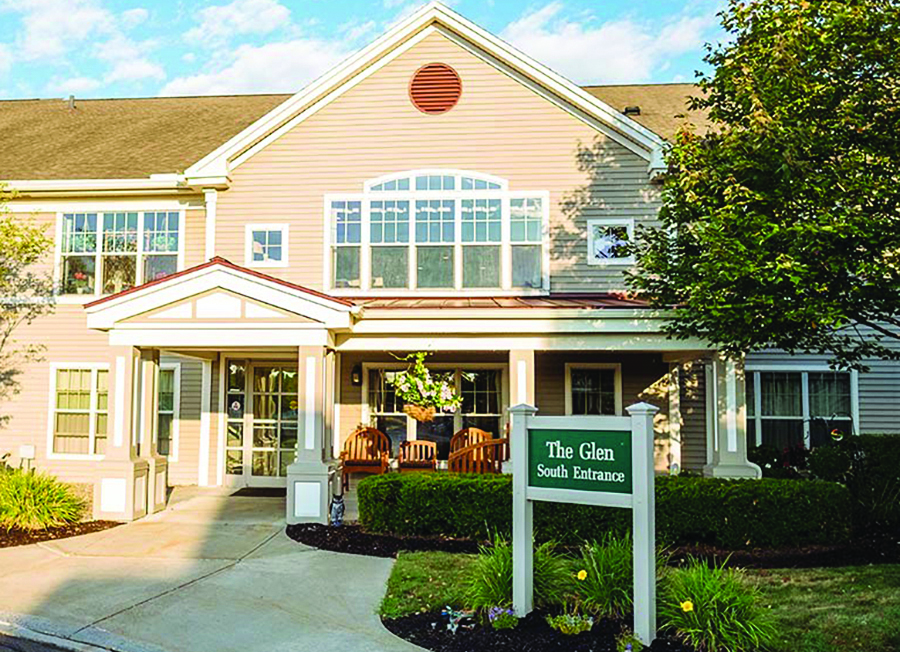 By Christine Graf
The Glen at Hiland Meadow has received approval for a $11.9 million expansion of its Queensbury senior living facility.
The project also includes the construction of a 4,700 square-foot wellness center with a pool and a $8.8 million 30-unit memory care facility. It  is a joint venture between The Conkling Center and The Eddy.
There are approximately 110 residents living in The Glen, which has 74 independent living apartments and 18 independent living two-bedroom cottages. It is full-service retirement community with a dining room, grill room, lounge, library, and multi-purpose room. Transportation, maintenance, and housekeeping are provided to residents and an on-site social worker is available to connect them with outside services.
"We typically do have a waiting list to get in, and we've been planning this expansion for some time. This was part of the original plan of development to bring us to 120 apartments and cottages," said Andrea Hebert, executive director at the Glen and vice president of Eddy Senior Living. "We will be adding 28 apartments on the north side of the building with a view of West Mountain. We are also adding 30 units of memory care which will be a separate building."
Construction of the independent living apartments is expected to begin in the coming weeks. The building permit for the memory care facility will most likely be issued within the next several weeks. Sano-Rubin Construction Services of Albany is the developer for the project. Richard E. Jones Associates of Queensbury is the architect for the independent living and wellness center expansions, and Architecture+ of Troy is the architect for the new memory care building.
"I expect see construction equipment on site any time now," said Hebert. "The independent living and wellness center have about a 12-month construction time. The memory care is about 14 months construction time. In and around next spring/summer we will start opening."
According to Hebert, The Glen appeals to seniors who want to stay independent but no longer want to have the responsibilities of caring for their own homes.
"There is a market for all of the different segments that are existing right now. There are the 55-plus communities with no amenities and just the apartment itself. We were never that. We are full service for the person who would not like to bother with making all of their meals and taking care of all of the maintenance and upkeep of home life. That's really what we are there for, and we provide support as people age so they can stay independent and have more time for other activities."
There is an entrance fee to live in an independent living apartment or cottage, and various refundability options are available. Residents pay monthly fees to cover meals, activities, transportation, and other services that are provided.
The Terrace at the Glen offers enhanced assisted living to individuals who are no longer able to live independently. There are 42 assisted apartments that can accommodate up to 52 residents. Memory care is currently not available, and it is for that reason that the new memory care center will be a welcome addition to the campus.
"There are always people who will progress to that level. Right now, those folks have to go outside of our community," said Hebert. "Many times, they have to leave the area. We've had people have to go down to the Saratoga and Albany area because there aren't that many memory care beds in the Queensbury area. Sometimes it separates husbands and wives, and it can move people farther away from their families."
A capital campaign is currently underway to raise money for the construction of the memory care facility.
"We're trying to raise $2 million to help with the infrastructure," said Hebert. "We want to be able to keep the rates down and provide a really good program. We're spending a lot of time making sure that the building is the best it can be for offering quality of life for our residents."
For more information, visit www.eddyseniorliving.com/