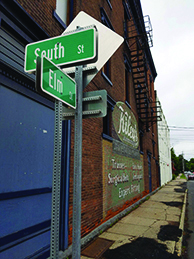 By Jill Nagy
The City of Glens Falls working with Bonacio Construction Co. of Saratoga Springs plan the redevelopment of Market Square, along South and Elm Streets in the downtown area.
The area includes the Farmers' Market pavilion and three vacant buildings, two of which the city owns.
The Market Square project will complement the adjoining Market Center development. The city is working with Envision Architects of Albany to develop plans for a permanent home on South Street for the Farmers' Market that will also serve as a community event center.
When the two projects are completed, they will form a two-block pedestrian-friendly space with commercial, residential and community spaces.
Bonacio was awarded the contract to develop the Market Square area last May. Larry Novik, the company's business director, said plans are still very tentative.
He expects to renovate two city-owned buildings, the former Hot Shots Bar and an incubator building, along with a third building, the former Sandy's Clam Bar, which Bonacio already owns. 
Ground floor space will be dedicated to commercial use with office and residential uses in the upper floors, he said. Bonacio will also acquire the lot now occupied by the Farmers' Market pavilion and construct a new building that may include a parking garage.
"We are in the early stages of working with them on a design" for the new building, Jeff Flagg, the Glens Falls economic development director, said.
When the work is completed, probably late in 2022, Bonacio will own Market Square. The details of how the developer will acquire the city-owned property will be negotiated, Flagg said. The cost of the project will depend upon the final design.
The Market Center, on the other hand, will remain city property, Flagg said. He envisions an open space, probably with a roof and movable walls.
That project has been in the works for several years. In 2017, the cost of the Market Center was estimated at $2.8 million but, Flagg said, it is likely to be more than that. If all goes as planned, construction will begin in early 2022. A developer has not yet been chosen.
Novik estimated that Bonacio's negotiations with the city would last 90-120 days. He foresees beginning construction by the end of the year, possibly working in phases. Work on the Farmers' Market site, for example, cannot begin until that market moves to its new home.
Much of the city's share of the cost of the Market Square and Market Center developments will be covered by a portion of the $10 million state grant it received in 2019 to fund its Downtown Redevelopment Initiative program.