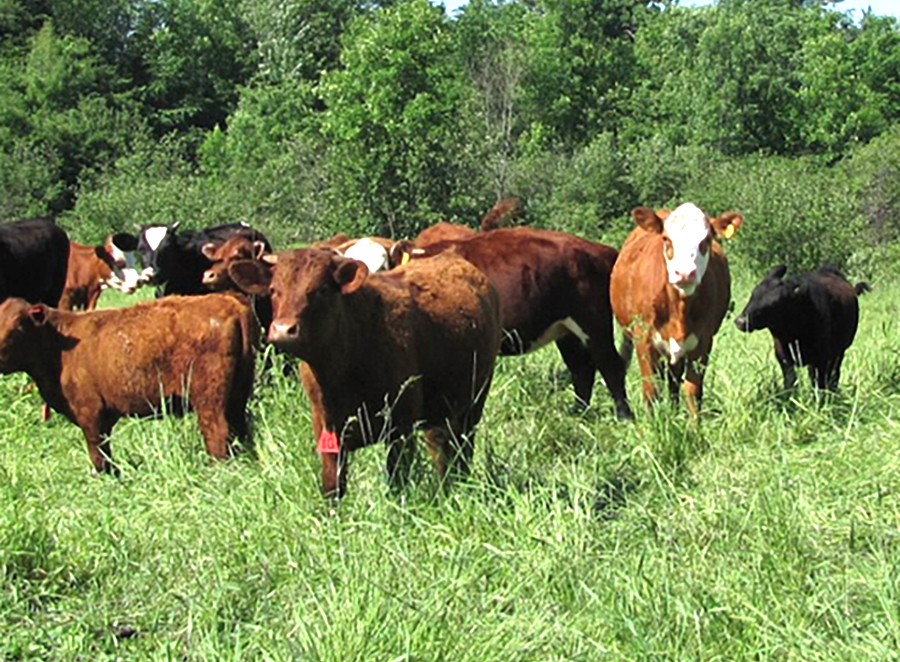 By Lisa Balschunat
Fifteen years ago, Cody Kilcoyne's father Patrick established a small cattle farm in Lake Placid to provide quality beef to families and restaurants in the area with "delivered to your door" service.
What began as a small cattle farm with modest acreage and a handful of customers has grown into a farm that works with USDA processors to serve hundreds of restaurants, hospitals, private establishments and schools throughout New York state. 
Kilcoyne Farms moved from St. Lawrence County to Hudson Falls four years ago. The family now has plans to construct its own processing facility on Ferguson Lane at the Airport Industrial Park, where Warren-Washington counties share land ownership.
"We are in the application phase with the Warren Washington County Industrial Development Association (IDA) to purchase 20 acres of land and build a 25,000- to 35,000-square-foot processing plant," Kilcoyne said.  "We looked at other locations with existing buildings, but this option will work best. It includes public water, sewer lines … And, we can build from scratch without having to retrofit an existing structure."
He said his farm is presently working with a USDA planner and designer and is hoping to soon receive final approval for a bank loan.
Paone Architecture of Saratoga Springs, has been secured for the project design and Munter Enterprises, of Middle Grove will construct the plant.
Once funding is secured and the IDA application process moves forward with anticipated approval, Kilcoyne hopes to break ground in the summer of 2022.
"When we get the new facility up and running to maximum capacity," Cody said, "we'll be able to process 200 cattle and 100 hogs per week."  All of the cattle are New York state sourced and processed, and contain no hormones or antibiotics, Kilcoyne said.   
He said constructing an $8.1 million facility in the industrial park makes good business sense.
"There are only about 800 USDA processors in the country," Cody said.  "We put about 1,000 miles a week on our trucks to get our cattle to our processor in Croghan, in Lewis County.  A plant in the industrial park would cut down our delivery time from three-and-a-half hours to 15 minutes. This location will give us the opportunity to expand into the grocery market based on sheer geography."
He said plans include making part of the building an educational facility,. There will also be  a commercial kitchen, dry aging room, curing boxes and a smoker. 
"We already work with SUNY Adirondack for their butchering class and want to continue that relationship,"Kilcoyne said. "There are many classes at colleges and in butcher departments at grocery stores that teach cutting meat, but few teach how to do whole animal butchering.  We're excited to be able to show students how it's really done."
With a small fleet of three trucks, Kilcoyne distributes its products throughout most of the state—north to Lake Placid, south to Putnam County, west to Ithaca in the Finger Lakes and east to Vermont. 
During the height of the pandemic when there were limited options for meat processing, he said that "small farms closed the gaps. There wasn't a meat shortage during the pandemic, though some people thought so. There was a shortage of meat processing services."
"We had to shift from selling half cows to our customers to making smaller packages of steaks and ground beef," said Kilcoyne. "Restaurants were closed. We had to adjust our way of doing business. Most of our home deliveries continued.  People were very gracious."
Kilcoyne presently employs three people, but anticipates tripling the workforce in the future with this new business venture.
His brother-in-law, Jake McLaughlin, is co-owner of the farm. His sister, Alicia McLaughlin, manages the finances, and his father, Patrick, is still involved.
For more details about Kilcoyne Farms, visit www.kilcoynefarms.com