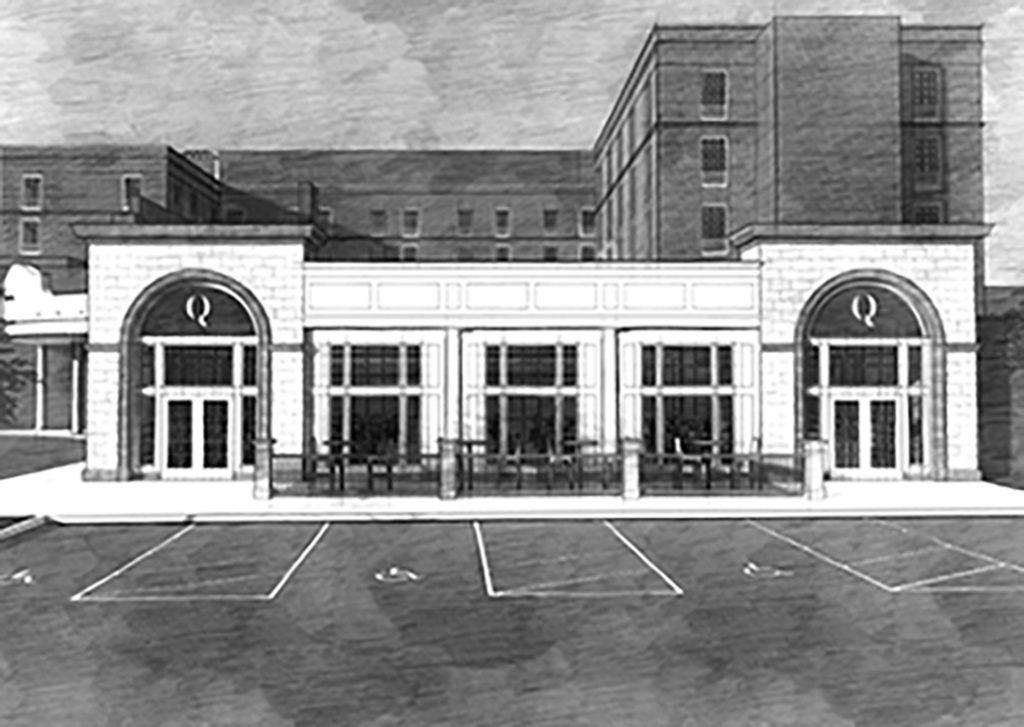 By Lisa Balschunat
Another phase of expansion is underway at the Queensbury Hotel in downtown Glens Falls.
The owners plan to construct a grand ballroom that can accommodate 400 people for a wedding or similar dinner event, 700 people for a cocktail party and 350 people theater style. 
In addition, the room will be equipped with two breakout rooms. A new banquet kitchen will be built off the ballroom. The facility will be 5,200 square feet.
"We are moving full steam ahead," said hotel general manager Tyler Herrick.  "When Spruce Hospitality Group bought the Queensbury in 2016 the first thing Zach Moore and I talked about with Ed Bartholomew was the need for a big room to accommodate community events.  Something grander than Heritage Hall, bigger than Great Escape Lodge, but closer than The Sagamore."
Spruce Hospitality is working with the Phinney Design Group of Saratoga Springs and is presently securing funding for the $2.2 million project through Glens Falls National Bank and Trust Co. Herrick said he anticipates finalizing soon the contract for construction with a local company.
The ballroom will be located right of the hotel's Ridge Street entrance. He said the project should begin in late August with plans to accept bookings beginning in September 2022.   
"We are really excited about this project, as it rounds out our five-year plan and solidifies what we know in the hospitality industry—that a banquet booking offers a predictable, controlled profit.  Many people think it comes from the bar.  There's guess work at the bar. There is predictability with an event and a straight percentage that bodes well for our business."
He said the sales team is looking to secure continuing education forums in the space, among other events.
"We rely on the leisure market, but our bread and butter locally, is social and corporate events, so we wanted to expand that service to the community," Herrick said. "We're looking to draw on state associations to schedule their annual meetings and conventions here and business associations to come to The Q for their trade shows and special events."
Last year during the pandemic, the hotel hosted the television film crew and participants for Animal Planet's annual "Puppy Bowl."  The 17th annual event was filmed at the Cool Insuring Arena instead of on a New York City soundstage to provide a smaller social distanced venue.  The event is broadcast each year on Super Bowl Sunday. 
"We are hoping that the smaller venue worked all the way around for Animal Planet and that they'll schedule their annual filming here instead of in Manhattan," he noted.
Herrick said when a group comes to the hotel for a two- or three-day event, all the downtown businesses benefit "because the city has many choices for walkable restaurants and shops. The Queensbury brings business to other businesses," When 375 temporary residents of the city are here for an event they are looking for things to do and buy."
He said a rooftop bar may be the next project for the hotel.