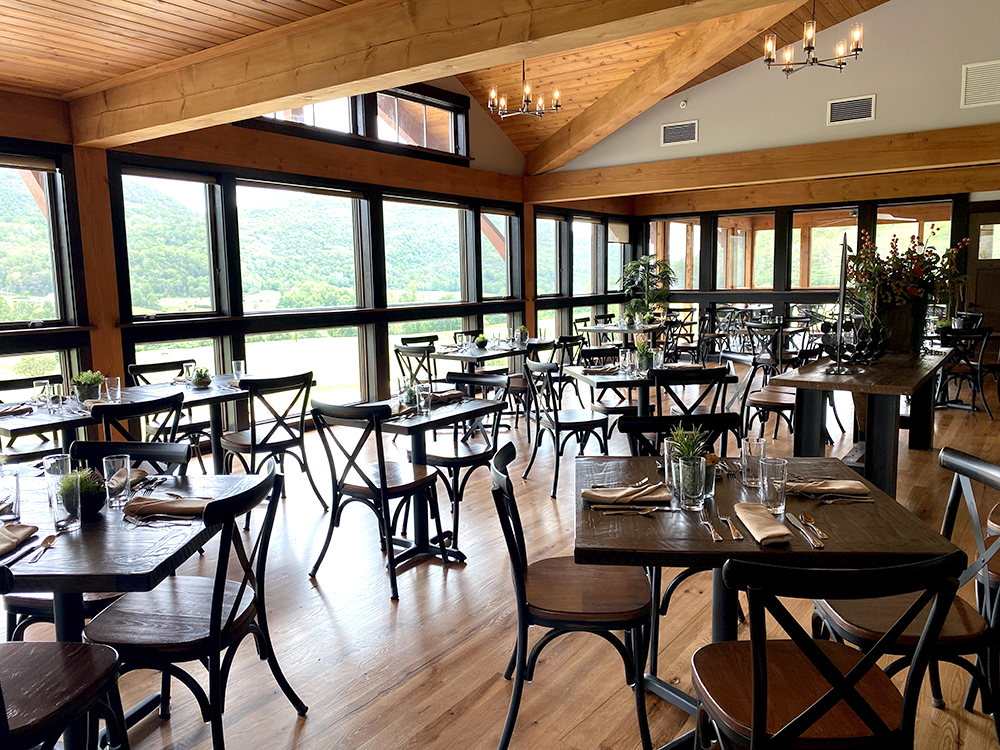 By Lisa Balschunat
Spruce Hospitality Group, parent company of the Queensbury Hotel in Glens Falls and co-owner of the Fairfield by Marriott Inn & Suites, Queensbury, is broadening its business reach to Ticonderoga in a third-party management business arrangement.
Tyler Herrick, president of Spruce Hospitality Group and general manager of the Queensbury and Fairfield hotels, said he and his business partner Zachary Moore, have hired a general manager, executive chef and some 40 employees to serve the food and beverage operation at the Ticonderoga Golf Course.
Located in Ticonderoga on Route 9N, the golf course offers members and the public a golf outing, as well as refined dining at Seymour's Restaurant, or pub fare at the facility's tap room.
Seymour's touts a three-season porch with views of the Lord Howe Valley and Adirondack sunsets.  The tap room features local craft brews and signature cocktails. Pub fare is served on the clubhouse's lower level, covered terrace and patio.
Herrick said the guests are a combination of local residents, seasonal homeowners and visitors. "We are excited to be a part of it."
The  golf course is looking to host future Professional Golf Association regional events, he said.
He noted that golf courses nationwide experienced a record year in 2020 during the pandemic and that trend is continuing into 2021.
"We exceeded our expectations opening night serving 200-250 dinners," Herrick said.  "We've advertised locally, but have not expanded yet to a broader reach."
"Ticonderoga, with the fort, canals, waterways and history, is really a crossroads for new commerce," Herrick said. "I see a resurgence here as the southern basin is too expensive and individuals and businesses are populating north.  There is so much potential here."
"I've seen it in other mill towns in New England, where buildings are being transformed into mixed-use and residential buildings to breathe new life into a town."
Ticonderoga is working toward securing infrastructure grants for future development.
Seymour's Restaurant is named for Architect Seymour Dunn, the Scottish professional golfer who designed the golf course in 1925. It seats 150 to 175. Additionally, there is 3,000 square feet of event lawn space available for outdoor events.
Herrick said Spruce Hospitality, formed in 2015, increased its operation when it consulted on the Park Theatre/Doc's Restaurant project in Glens Falls and continues to expand its reach with this business venture.
He said he was thrilled to learn that Michael Phinney, principal architect/owner of Phinney Design Group, Saratoga Springs, was working to rebuild the Ticonderoga Golf Course.