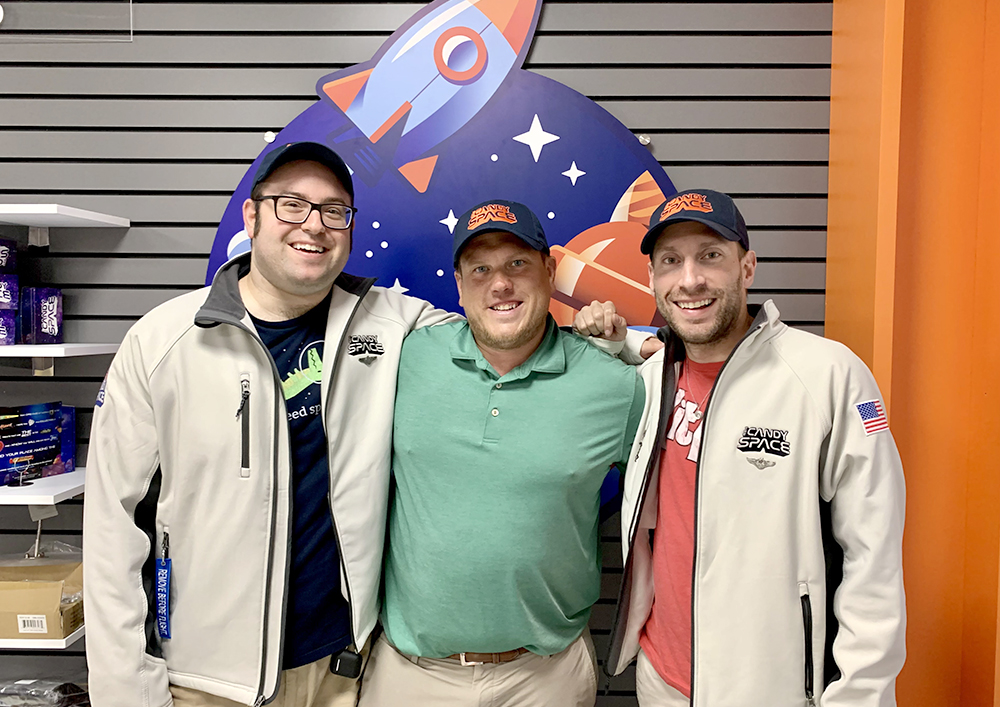 By Andrea Harwood Palmer
A new space-themed candy store has opened in the French Mountain Commons outlet center on Route 9 in Lake George.
Business partners Chad Rabinovitz, Jeffrey Small and Zach Moore had the grand opening for The Candy Space on July 8. The store has thousands of different candies, toys, cotton candy and space-themed paraphernalia, as well as 180 bulk bins of candy.
Rabinovitz and Moore had been talking about opening a store together in an empty retail space Moore had available at the outlet center.
"I said, 'Here's the deal. I'm in if it's a candy store'," said Rabinovitz.
"I'd love to say there was a ton of market research that happened, but the reality is I've always wanted to open a candy store. So that's how it happened," he said.
After the business partners made the decision to open a candy store, Rabinovitz started playing with ideas of what the business model should be and how they would offer something that didn't already exist. With Amazon being the current retail leader in candy sales, Rabinovitz knew he needed to give people a compelling reason to come into a brick and mortar location.
At first, Rabinovitz had the idea of a candy store that was all about a candy tasting experience, similar to a wine tasting experience.
Rabinovitz spent six years as the producing artistic director of the Adirondack Film Festival before leaving to pursue other ventures earlier this year. He is currently the creative director of two Astronauts Productions and the producing artistic director of the Bloomington Playwrights Project.
"My brainstorming for the store was similar to when I do plays. I just talk to a ton of people, spout out my ideas and see how everyone reacts to it," he said. "My other passion in life is the space industry. I resisted the idea of incorporating space with candy at first because I didn't want to build a store just for me. I wanted to build something marketable, something that had a reason to exist beyond my own personal preference. But the space theme kept coming back up."
Rabinovitz then came up with an idea for a candy launch tube. He said he remembered going to the bank where a pneumatic tube brought back receipts and often candy.
"Suddenly, it wasn't just a themed store. It was turning candy into a build-a-bear experience. No one had done that. And the idea of launching your candy into space was very intriguing to me," said Rabinovitz.
After figuring out how to have a  clear pneumatic tube system designed and custom built—and how to make the entire acoustic drop ceiling of the retail space look like a starry sky with twinkling lights while still keeping the retail area bright—the business partners set about putting the plan into action.
The candy launch tube is controlled by an interactive launch panel where kids and adults choose the fuel type, method and cargo they want to launch into space. Afterward, stuffed animals "launched into space" earn their flight wings pin. Launchers get a sticker showing they are now the proud owners of space-flown candy.
The Candy Space is open daily from 10 a.m. to 8 p.m. The store is located at 1439 Route 9, Suite 6, in the outlet center next to The Gap outlet.
The Candy Space can be reached at 518-223-0393. It's website iswww.thecandyspace.com.