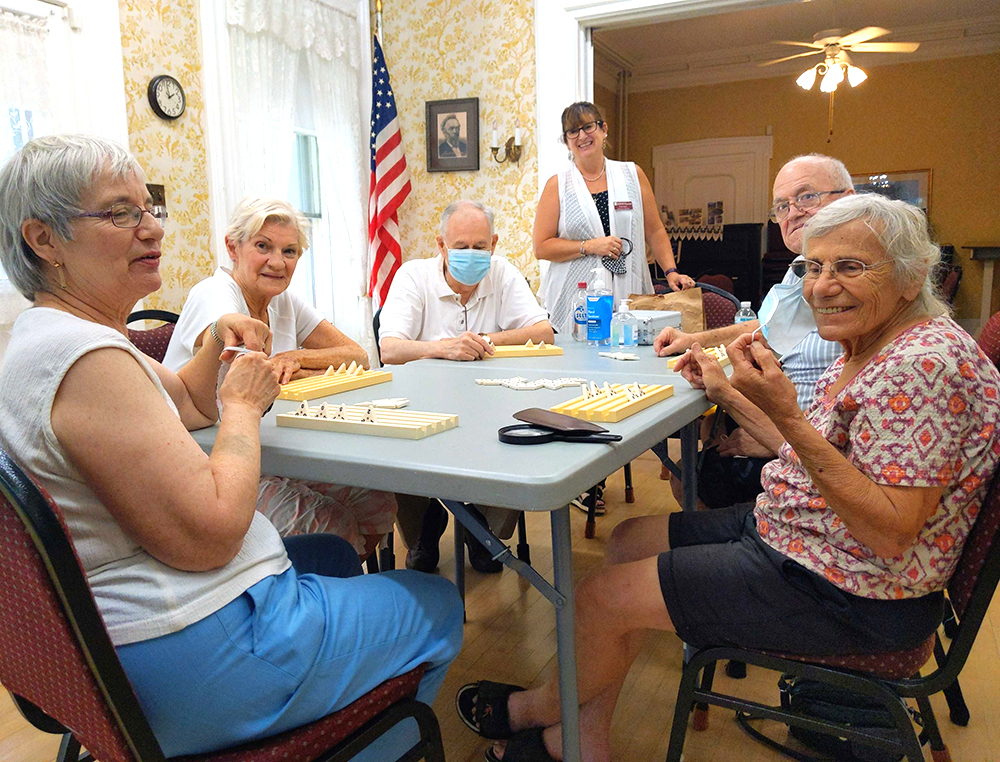 By Jill Nagy
Area senior centers are open and busy as COVID-19 safety guidelines eased up . Members are returning for exercise classes, meals, games, trips, and, most of all, the chance to socialize after over a year of isolation, officials say.
At the Queensbury Senior Center, there is a waiting list for some classes and others are full. Seniors at the Glens Falls Senior Center had their first trip of the season, to a youth theater performance at Lake George, at the beginning of August, but as a precaution, only six passengers were allowed in a 12-passenger van
At the Clifton Park Senior Community Center, dances are back but live music will have to wait until September, officials said. At the Saratoga Senior Center, art classes art full and demand is great for exercise classes and anything including food, especially Friday barbecues in the tents behind the building.
. On the whole, center directors report a slow but steady return of their members and attendance at about half the volume they were used to before the pandemic. Saratoga, for example, hosts about 70 seniors a day, compared to 130-150 a day before the height of the pandemic. But, according to director Lois Celeste, "each month, we keep adding."
The centers never completely closed during the pandemic. They provided take-out meals and delivered groceries and medications; conducted online and outdoor programs; and made an effort to keep in touch with members. On the whole, staff worked from home and no one had to be laid off.
The Queensbury center bills itself as "Seniors on the Go." The facility normally has a robust travel schedule, including overseas trips, said Stephanie Smith, the development coordinator, who is acting director while the center looks for a replacement for Michele Whitbeck.
For now, though, the center is planning only day trips.
Later this month, the Queensbury center will celebrate its 45th anniversary with food, a band, and a visit from the town supervisor. In the coming months, they plan a book sale in September, a craft fair in October, and a basket raffle in November. With 850 members, it is one of the larger, as well as older, centers in the area.
In Glens Falls, Tai Chi is full every week and line dancing is also a good draw, reports director Kim Bren. Most classes are 50 to 100 percent full.
The center is not serving sit-down meals but the monthly drive-through meals are increasingly popular, she said. She observed that "people were a little hesitant at first but they are coming back."
Clifton Park director Susan Leonard said "we are doing almost everything we did before" and she expects more could be resumed in September.
"It depends on when the instructors can come back," she said. There is already a full schedule of dinners, trips, and exercise classes.
"People are joining like crazy," she said, "They''re so happy to be back, to see each other."
In Saratoga, as at the other centers, masks are optional if people are vaccinated—and almost everyone is. The hand sanitizers are still out, along with information on COVID.
Clifton Park stopped checking temperatures because "we never had to send anyone home due to temperature," Leonard said. One member with a temperature of 100 degrees sat down for a few minutes to cool off and the borderline fever was gone.
Further information and full schedules are each senior center's website: saratogaseniorcenter.org, glensfallsseniorcenter.org, cliftonparkseniorcenter.org, and, of course, seniorsonthego.org.
Telephone numbers are 518 584-1621 for Saratoga; 518 383-1343 for   Clifton Park; 518 793-2189 for Glens Falls; and 518 761-8224 for Queensbury.