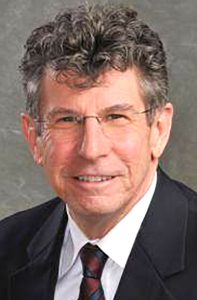 By Jill Nagy
Good financial advice from an Edward Jones Financial advisor enabled John M. Gable to retire in his 50s after a 30-year career in the information technology business.
Gable is now one of those financial advisors and, three years into his new career, he looks forward to providing the same kind of common sense investment advice to his North Country neighbors from his new office at 3755 Main St., Suite 101, in Warrensburg.
The office is housed in a 200-year-old building that was, according to Gable, previously many things including a grocery store, a pharmacy, an interior decorator's shop and a purveyor of rustic handmade furniture.
The Edward Jones Investments office is located on the first floor of the building.
Now, after a $100,000 facelift, the building houses Warrensburg's first financial advisor.
Although he lives in Lake George, Gable said he considers Warrensburg "kind of my home town."
The office was located in Queensbury while the renovation work went on. In Warrensburg, "there is a lot of really good positive energy flowing through here," he said, as well as "pockets of wealth" ready to benefit from his guidance.
He will host an open house from Oct. 18 to 27 and a ribbon cutting at 3 p.m. on Oct. 21. His neighbors include a hair salon, a barber shop, and a variety of cafes and restaurants, and an Oscar's Smokehouse.
Gable and his wife have lived in the community for more than 30 years and raised their children there. He serves on several community boards including the Warrensburg Chamber of Commerce, the Warrensburg Historical Society and the Our Town Theater Group. He prides himself on contributing to community events, volunteering in civic organizations, and mentoring students about financial literacy.
As a financial advisor, he said, "I'm inspired by the fact that I can help people make a difference in their financial lives. I help my clients with preparing for a comfortable retirement, enjoying retirement, paying for education, preparing for the unexpected, and saving on taxes."
His transition from IT guru to financial advisor required a "pretty intensive training and licensing process" over nearly six months. He received his license in 2018. So far, he said, "things are going extremely well" and he feels that he has received an "extremely positive" reception locally.
He is the only financial advisor in his office, the usual practice of the Edward Jones company. Trish Gardner runs the office as the branch manager.
Gable can be reached at 518 623-0046. His website is edwardjones.com/john-gable.